Jan Bartu, one of the longest-serving and most consistently successful performance directors in British sport, has been awarded an Honorary Doctorate by the University of Bath.
Bartu has built and then led the PentathlonGB Performance programme, based at the University since 1998, and supported athletes to win a total of five Olympic medals, including a gold from Steph Cook at the Sydney 2000 Games.
Already a member of the University's Hall of Fame, Bartu received his latest honour in a ceremony which formed part of a special dinner at Bath's Guildhall – one of the University's 50th anniversary celebration events.
Ever modest, Bartu paid tribute to all the hard-working athletes and support staff at the University and within PentathlonGB, the sport's British governing body, who had generated the sport's success.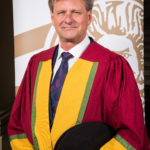 He said: "I would like to thank everyone at the University for the help and support that they have shown me and our sport over the years.
"For me, it's hugely important for athletes to be able to study and train and the set-up we have at Bath follows my belief in the importance of a healthy mind in a healthy body".
Bartu's degree of Doctor of Business Administration was awarded by Professor Peter Lambert, Pro-Vice-Chancellor (Learning & Teaching) in recognition of his successful career as National Performance Director for Pentathlon GB
The Czech 1976 Olympic medallist is also a member of the University's Hall of Fame for sport. His induction to the Hall of Fame came on the eve of the 2015 Modern Pentathlon European Championship staged at the University.
Bartu established the National Training Centre at the University of Bath in 1998, implementing the Performance Pathway System which has seen modern pentathlon become one of Britain's most successful Olympic sports.
Under his guidance, medals have been won at four of the last five Olympic Games, starting with that historic gold for Cook, the inaugural women's Olympic Modern Pentathlon Champion, and bronze for Kate Allenby at Sydney 2000.
Georgina Harland also won bronze four years later in Athens and Heather Fell took silver at Beijing 2008.
University of Bath graduate Samantha Murray famously won Team GB's final medal of London 2012, also a silver, and is one of three pentathletes to be crowned as World Champion during Bartu's tenure – the others being Cook in 2001 and Mhairi Spence in 2012.
He also competed at the Moscow Games four years later before becoming Technical Director of Czechoslovakian Pentathlon in 1986.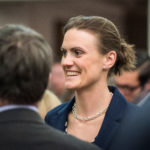 Bartu was technical Director of Czechoslovakia Pentathlon from 1986-90 before moving to become the Head Coach with the Mexican national team from 1990 to 1994 and the US Pentathlon Association from 1995 to 1997.
One of his ambitions after starting with GB was for Bath to stage major championships and events in his sport. He first realised that ambition as far back as 2001 when Bath played host to the fifth stage of the Modern Pentathlon World Cup series.
In 2015 a ground-breaking European Championships took place at the University of Bath with all five disciplines being staged on the campus, including the spectacle of show-jumping in an arena constructed on the athletics infield.
More than a thousand spectators witnessed Joe Choong and Kate French make the Olympic qualifying standard at that event and GB's women won team silver.
At the time Bartu said: "I have been working here in Bath since 1998, before the Sports Training Village was built, and it has always been my dream to stage a big event here where we train every day.
"It is quite magical for me and my coaching team to finally realise this ambition".
Renowned for his attention to detail and the rigour and professionalism of his training programmes, Bartu's team took three top-10 finishes at the recent Rio Olympic Games but no medals – clearly a disappointment for this adopted Bathonian whose passion for his sport still shines as brightly as when he was an athlete himself.
For further information and images, please contact the Team Bath press office at Matchtight Ltd on 01225 383518 or press@matchtight.co.uk