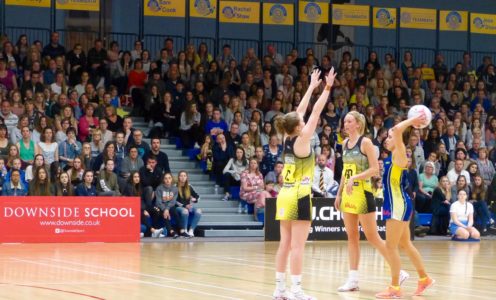 Team Bath Netball lost ground on the Vitality Superleague's top four after slipping to a frustrating 48-41 home defeat to in-form Manchester Thunder at the University of Bath Sports Training Village on Friday.
The Sitec-sponsored Blue and Gold were the better team in the first period and opened up a 12-8 lead but Thunder fought back in the second quarter to go 23-20 up, despite having shooter Joyce Mvula sent off for two minutes.
The hosts rallied to win the third quarter and close the gap to two points but Thunder – who have now won six games in a row – finished strongly as clinical finishing from Mvula and goal-attack Kathryn Turner proved the difference between the teams.
Team Bath Head Coach Anna Stembridge said: "We had a really positive start and there were opportunities for us to be further ahead at the end of that first quarter but credit to Thunder, they came out hard in the second quarter as you would expect from a class team.
"We allowed them to go on too much of a scoring run towards half-time and that is what cost us, we were always trying to peg them back after that. We responded well in the third quarter and won it 11-10 but we allowed them to score in little clusters of three – two off their centres, one off ours – and it's those errors that cost us.
"The positive play was better than we have seen before but we have to start winning games. We have to be clinical and capitalise on our opportunities."
Team Bath stuck with the seven that started last week's defeat in Scotland to Sirens and had the better of an entertaining first quarter, with Shantal Slater and Chelsea Lewis finding a good shooting rhythm to give the hosts a 12-8 lead.
Thunder shooter Mvula was twice cautioned for intentional contact and was sent off for another infringement two-thirds of the way through the second period. However, by that time, she and goal-attack Turner had turned the game on its head, scoring seven unanswered goals to put Thunder 20-17 up.
Team Bath were only able to score twice during Mvula's two-minute absence as mistakes began to creep into their attacking play and shots were missed at key moments, allowing the visitors to take a 23-20 lead into the second half.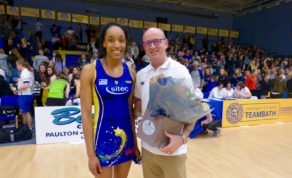 The hosts rang the changes for the third quarter with Sam Cook coming on at goal defence, Layla Guscoth and Imogen Allison moving forward, and Mia Ritchie going to the bench.
The changes had an impact as Team Bath closed to within one but Thunder were able to keep their noses in front. An injury to Lewis saw University of Bath student Paige Reed come on for her Superleague debut and she scored twice in the last minute to cut the gap to 33-31 going into the final period.
Lewis was able to return as shooter in a fourth quarter that remained nip and tuck for the first five minutes before a burst of six unanswered goals from Thunder took the game away from the home side.
Reed's debut after recovering from an ankle injury provided a positive for the Blue and Gold, with Stembridge saying: "Paige really delivered when she came on tonight, she is such a good prospect and it was so exciting to see her come on. You would have thought she had played Superleague netball for years."
Tonight's match was the first of four home fixtures for Team Bath during an action-packed April. They welcome Hertfordshire Mavericks to the University of Bath on Good Friday (5pm start) before playing host to Celtic Dragons on Saturday, April 22 (5pm) and Severn Stars on Friday, April 28 (7.45pm).
Tickets for all those matches – priced £12 for adults, £8 concessions and £35 for family tickets – are available at www.teambath.com/events/ticketline or by calling 0844 888 4412.
Friday's match was preceded by the first match of the new U21 Netball Performance League season, also against Manchester Thunder. An exciting match saw Team Bath rally from a third-quarter deficit to claim an impressive 42-39 victory in front of an appreciative home crowd.
Team Bath Netball are sponsored by Sitec, Mogers Drewett are their Education Partners, Centurion Wealth Management are supporting the team's performance analysis capabilities, Surridge are the kit supplier and Skins provide the team with compression wear.
Match stats 
Team Bath Netball
Starting Seven: GS: Shantal Slater; GA: Chelsea Lewis; WA: Rachel Shaw; C: Mia Ritchie; WD: Imogen Allison; GD: Layla Guscoth; GK: Eboni Beckford-Chambers. Replacements: Sam Cook, Paige Reed, Laura Rudland, Amanda Varey, Vangelee Williams. 
Changes: Q3: Cook – bench to GD; Guscoth – GD to WD; Allison – WD to C; Ritchie – C to bench; Ritchie – bench to C; Allison – C to bench; Lewis – GA to bench; Reed – bench to GA. Q4: Lewis – bench to GS; Slater – GS to bench.
Manchester Thunder
Starting Seven: GS: Joyce Mvula; GA: Kathryn Turner; WA: Liana Leota; C: Gabby Marshall; WD: Bea Skingsley; GD: Emma Dovey; GK: Kerry Almond. Replacements: Dani Bloomfield, Amy Clinton, Beccy Hoult, Paige Kindred, Sophie Morgan.
Changes: None.
Quarter scores (Team Bath first)
Q1: 12-8. Q2: 20-23 (8-15). Q3: 31-33 (11-10). Q4: 41-48 (10-15).
Attendance: 1,100.