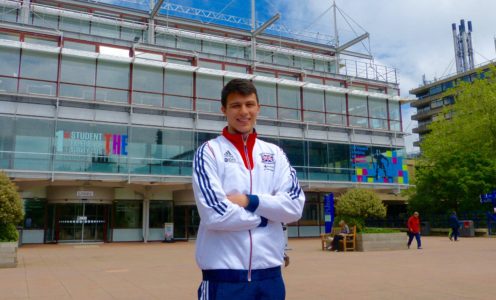 Bath student Joe Choong, an MJ Church ambassador, will make his World Cup return at this week's event in Drzonkow, Poland, his first World Cup appearance since finishing 4th in Rome at the beginning of April 2016.
The Rio Olympian took time out from training to concentrate on his Mathematics degree at the University of Bath over the winter before returning to international action with an impressive 5th place finish at the German Open Championships last month.
Choong will be joined in the Men's team in by University of Bath-based Jamie Cooke and Tom Toolis. World number 7 Cooke returns from a minor injury that kept him out of the previous World Cup in Hungary.
Meanwhile, 2012 Olympic silver medallist Samantha Murray, Joanna Muir and Francesca Summers will all compete in the Women's event at World Cup 4 as they look to build on encouraging performances last time out in Hungary.
The event in Drzonkow is the final competition of the four-stage regular World Cup season. As a result, it is the final opportunity for athletes to gain World Cup points to try and qualify for the World Cup Final in Druskininkai, Lithuania at the end of June.
Pentathlon GB has its home at the University of Bath and if you want to follow progress of the national squad here is the schedule:
Thursday 25th May – Women's Qualification
Friday 26th May – Men's Qualification & Women's Fencing Ranking Round
Saturday 27th  May – Women's Final & Men's Fencing Ranking Round
Sunday 28th May – Men's Final
 The University is looking forward to hosting the British Modern Pentathlon Championships on June 3 and 4 which will include the innovate Laser Run event.
Source: Michael Powell, Pentathlon GB Press Office