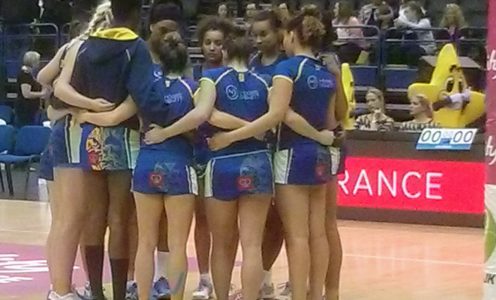 Team Bath Netball had to settle for a fourth-placed finish in the 2017 Vitality Superleague season after being edged out in a hard-fought bronze-medal match against Manchester Thunder on Sunday.
The title might not have been on the line after Saturday's semi-final setbacks but that did not stop both teams serving up a cracking contest for the Final Four fans in the Birmingham Arena.
However, despite a battling effort from the Sitec-sponsored Blue and Gold, it was Thunder who took the honours after a decisive surge in the closing stages of the third period set up a 56-48 victory.
Head coach Anna Stembridge said: "We're disappointed in terms of the result but proud of the girls. They got themselves very much in the game but the end of the third quarter proved costly, they just bounced the margin out too much so credit to Thunder.
"Sometimes people say the bronze-medal match doesn't mean anything but it absolutely did today to both teams, you could see that throughout. Unfortunately we had a couple of errors at key moments – we could have ended up being goal for goal at one point and that would have been interesting."
Reflecting on a season that saw Team Bath win seven of their last eight matches to book their place in the Final Four, Stembridge added: "The girls showed real character, particularly in the latter end of the season, but unfortunately it wasn't our weekend.
"There have been some big positives. The U21 players have had real impact, the partnerships have worked really well and people forget that it's a first Superleague season for the likes of Paige Reed and Laura Rudland so they have grown as players.
"I'd like to ensure we can build off the performances for next season and I'm hoping we can retain the bulk of our squad, I think that will be important going forward."
Considering both teams had suffered semi-final disappointment less than 24 hours before, to Loughborough Lightning and Wasps respectively, there were no signs of the players feeling sorry themselves during an enthralling first half.
Thunder got off to the brighter start, forcing a couple of early turnovers to push into a 10-5 lead midway through the first period, but Team Bath began to find their rhythm and a Chelsea Lewis goal on the buzzer saw them finish the quarter 17-11 down.
It was a feisty, physical affair and that continued in the second period as the Blue and Gold showed their determination not to go down without a fight. They really took the game to their opponents, applying terrific pressure right across the court as Layla Guscoth and Eboni Beckford-Chambers imposed themselves on the Thunder attack.
Imogen Allison also produced some flying interceptions as Team Bath slowly gained the upper hand, closing the gap to one goal before Thunder struck twice in the last minute of a pulsating quarter to push their half-time advantage to 28-25.
Mistakes and misses were the theme for much of the third period as both teams forced multiple turnovers. There was little to choose between them for long periods and the gap remained at three with five minutes to go.
However, the game got away from the Blue and Gold in those closing stages as Thunder finally began to convert the turnovers, stretching their lead to ten goals before Lewis scored on the buzzer to cut the gap to 42-33.
Thunder continued their good form into the final period and extended the lead to 49-37 but Team Bath were not going down without a fight and produced a rousing recovery.
With Shantal Slater on at goal shooter, they pegged Thunder back to 51-47 with four minutes remaining. There were cries of "we can do this" from the Blue and Gold faithful but Thunder managed to settle their nerves and secure third place.
Team Bath Netball are sponsored by Sitec, Mogers Drewett are their Education Partners, Centurion Wealth Management are supporting the team's performance analysis capabilities, Surridge are the kit supplier and Skins provide the team with compression wear.