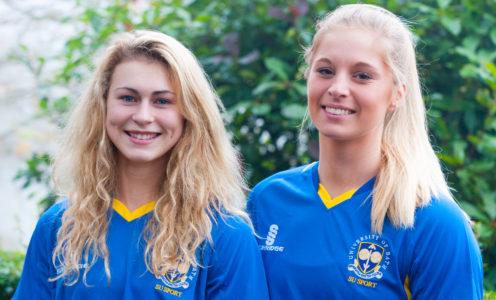 A 13-strong squad will represent the University of Bath at the 2017 Henley Women's Regatta this weekend.
Carlotta Broglia and Megan Stoker, who study Business Administration and Biomedical Sciences respectively, are one of two Crew Bath boats competing in the Senior double scull.
The others (pictured) are Management Masters student Steph Clutterbuck and Laura Macro, who studies Sport & Exercise Science. Both are part of the University-based GB Rowing Team Start programme, coached by Dan Harris, and are supported by Santander and Matrix Sports Scholarships respectively.
Contesting the Senior quadruple scull are Anna Willis (Chemistry), Robyn Bell (Sport & Exercise Science), Ellie Denham (Biology) and Christina Cackett (Business Administration), while Hannah Slater (Integrated Design Engineering), Kimberley Ertl (Civil & Architectural Engineering), Zara Mulholland (Civil Engineering), Ella Shilliday (Chemistry) and cox Ella Flanagan (Natural Sciences) will race in the Academic coxed four.
Completing the squad is Sport & Exercise Science graduate Sam Courty, a member of the GB Rowing Team squad and multiple medallist on the international stage. She will race in the Elite single scull.
Two more graduates of both the University and the GB Rowing Team Start programme, Frazier Christie and Sara Parfett, are making their senior World Cup debuts in Poznan, Poland this weekend.
Both made their senior bows at last month's European Championships and are gaining more valuable international experience, with Christie joining Nick Middleton in the men's double and Parfett racing with the women's eight.
The University of Bath men's team are also competing at the Marlow Regatta on Saturday.