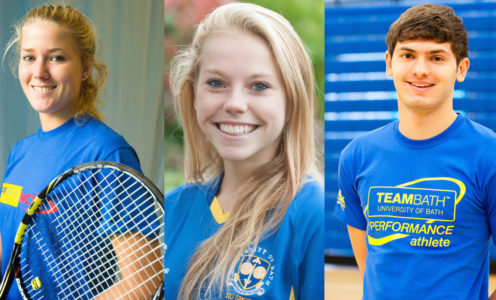 Tennis player Emma Hurst and athletes Jenny Nesbitt and Jacob Paul are the latest University of Bath sporting scholars to be selected for this summer's World University Games in Taipei.
It is double cause for celebration for Nesbitt and Paul who, along with fellow student Cameron Chalmers, have also been named in the British Athletics squad for next month's European U23 Championships in Bydgoszcz, Poland.
Nesbitt, who will compete over 10,000m in both Taipei and Poland, studies Sport & Social Sciences – the course that 400m hurdler Paul recently graduated in. Both receive Trendell Sports Scholarship support.
Sport Performance student Chalmers, coached by James Hillier at the Sports Training Village, will race in both the 400m and 4x400m relay at the European U23s. He is supported by a Santander Sports Scholarship and will make his senior GB debut at the European Team Championships in France this weekend.
Chalmers and Paul both won gold at the England U23 and U20 Championships in Bedford last weekend where Sport & Exercise Science student Olivia Caesar, coached by Colin Bovell, won 400m bronze.
Meanwhile, tennis player Hurst – who studies Sport & Exercise Science and is supported by a Trendell Sport Scholarship – has been named in a six-strong GB squad for Taipei.
Hurst helped Britain win a bronze medal at the Master'U BNP Paribas tennis tournament in France just before Christmas.
Hurst, Nesbitt and Paul join fellow University of Bath students Anna Hopkin and Jay Lelliott, a MJ Church sporting ambassador, in the GB squad for the world's second-largest multi-sport event after their selection for the swimming team.
Applications are now being taken for the 2017-18 Sporting Scholarships. Click here for more information.