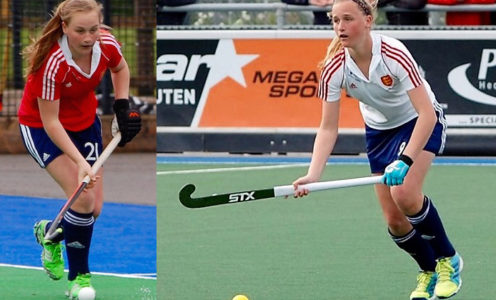 A number of talented Team Bath Buccaneers players, including twins Olivia and Sophie Hamilton, have been named in England Hockey National Age-Group Squads for this summer's international matches.
The sisters (pictured), who both attend Kings Bruton School in Somerset, were part of the successful Buccs women's 1st XI squad that won promotion to the Investec Women's Hockey League during the 2016-17 season, their first with the club.
They have been selected to represent England U16s on their tour of Germany, taking place from June 29 to July 2, and at the Six Nations Tournament in Barcelona, Spain, from July 15-23.
Will Prentice, who has been with Buccs since the age of eight, will once again represent England U16 Boys having made his international debut earlier this year. His dad, Rob, is coach of the Buccs U16 squad.
As well as the Six Nations competition, taking place in Nottingham from July 16-23, Prentice will also attend a training camp in Belgium from July 5-9.
Stuart Rushmere is in the England U18 squad for this week's matches against Germany, fixtures against Belgium from July 6-9 and the Six Nations Tournament in Nottingham from July 17-23.
The U18 squad is coached by University of Bath Head Hockey Coach Jody Paul, who will also assist England U21s as they prepare for August's European U21 Championships in Valencia, Spain.
Sports Performance students Peter Scott, supported by a Trendell Sports Scholarship, and Harry Skinner are joined in the England U21 squad by fellow Buccs player Will Hewer, who has been promoted from the U18s after impressive performances against the Netherlands and Wales development teams.
The U21s fly out to Frankfurt on Thursday (June 30) to take on Germany.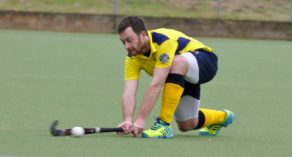 Meanwhile, Rio 2016 Olympian John Jackson, who plays for Buccs' men and coaches the University women's 1st team, helped Ireland win the Hamburg Masters title in Germany over the weekend.
They wrapped up the title with an excellent 4-2 win over the host nation, who are ranked number three in the world.
It was the perfect preparation for next month's World League semi-final tournament in South Africa, where Jackson and his Ireland team-mates will be bidding for a top-five finish and World Cup qualification for the first time since 1990.
To find out more about the hockey programme at the University of Bath, visit www.teambath.com/hockey and www.teambathbuccaneers.co.uk.