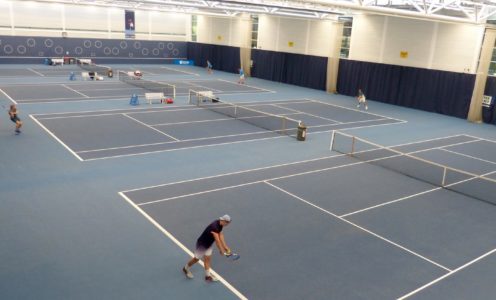 Wimbledon may be over for another year but there will still be plenty of tennis to enjoy when the University of Bath hosts the 2017 Team Bath CoMpete Tennis Festival next week.
The annual LTA Grade 2 tournament, which has been staged at the Sports Training Village for the past 15 years, features all age groups from U10s through to men's and women's open singles.
It makes full use of the Team Bath tennis facilities, with matches being played on the eight indoor courts and the six outdoor courts, including two clay.
Barry Scollo, Director of Tennis at the University of Bath, said: "This is one of the best Grade 2 events in the country, attracting players of a very high standard, and it is always a privilege for it to be held here.
"It is a great opportunity for young tennis players in particular to come and compete in a top age-group tournament and gain valuable experience.
"This tournament always receives the full support of the University of Bath and Team Bath, and we are grateful for the opportunity to stage an event like this every year."
The Tennis Festival will get under way on Saturday (July 22) and will run until the following weekend, with matches being played every day. The finals for all age groups – U10, U12, U14, U16, U18 and open – will be played on Saturday, July 29.
Among the Team Bath players to look out for are Megan Davies and Amelia Bissett, who recently represented Great Britain in the Tennis Europe Summer Cup.
Spectators are welcome to watch the tournament and entry is free.
Click here for more information about the all-encompassing tennis programme at the University of Bath.