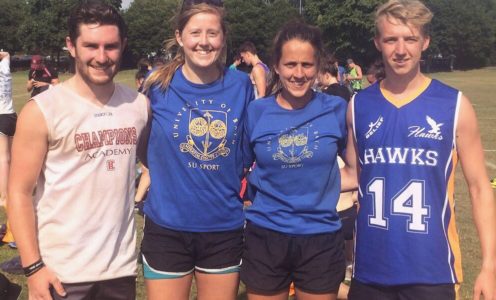 Four members of the University of Bath Hawks touch rugby team are in France this week to represent the England Touch students team, the England Scholars. 
Nye Davis and Ollie Lee, who study Mechanical Engineering and Sport & Exercise Science respectively, are in the men's team for the European Federation of Touch (EFT) Championship Permit tournament.
Sport & Social Sciences student Abi Caple and Jade Traynor, who studies Sport & Exercise Science, will represent the women's team at the second-tier tournament which pits England against such developing European countries as Spain and the Netherlands.
All four students were integral parts of the Hawks' success this year, winning the England Touch Universities Touch Series, and first started playing touch when they came to university.
Will Serocold, who is departing his role as the University's touch coordinator after graduating in Sports Performance, puts the quartet's achievements down to their hard work.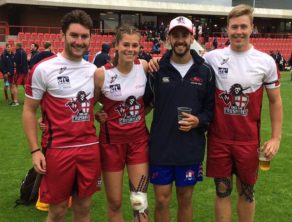 "I'm extremely proud that the Hawks are so well represented in the Scholars sides and really pleased for the four Hawks that got selected, it will be a great experience for them," he said.
"It's a testament to how far hard work can get you that they only picked up touch when they came to university, which was only two years ago for Nye and four years ago for Abi, Jade and Ollie.
"They've all put in a great deal of work to get selected for these squads and I think they truly deserve their spots on the plane. Hopefully they can make the most of the experience of an international tournament and come back with a medal round their necks."
Earlier this month five more Hawks were in action at the EFT Premiership Permit tournament in Edinburgh. Dan Roberts and Rhys Lynch were in the Celtic Devils men's open team, whilst Brontë Sykes was part of the England Crusaders women's open side.
Serocold and Dom Tripp and Will Serocold also represented the England Crusaders and Lee earned a late call-up for the Crusaders as injury cover.
Four of the six students came away with gold medals after the England Crusaders won both the women's and men's division, the men's in an exciting extra-time drop-off against the Devils.
Sykes will take over as touch coordinator for the new academic year in September and anyone wishing to take up touch rugby at the University of Bath should email her at ‪bs639@bath.ac.uk.
Click here to find out more about the rugby opportunities at the University of Bath.