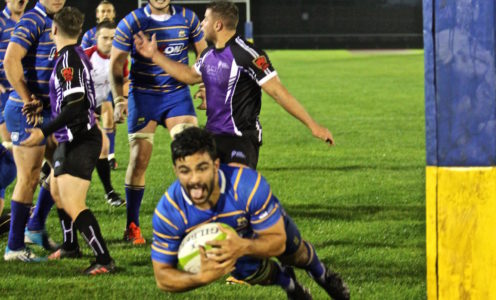 A penalty from the last kick of a pulsating game condemned the University of Bath to a frustrating defeat in their opening BUCS Super Rugby game of the 2017-18 season against Leeds Beckett University.
There were 94 minutes on the clock when Harri Collier slotted over from close range to give the visitors a hard-fought 27-26 success in a hugely-entertaining contest where the lead changed hands six times.
Bath, sponsored by IKON Construction, once again employed their lineout drive superbly to score tries through George Frampton, Luca Petrozzi (pictured above), Jack Davies and captain Will Britton in front of a 900-strong crowd.
The latter was brilliantly converted by Will Flinn, his third of the game, to put the hosts 26-24 up with just seven minutes of the 80 remaining but Leeds – much improved from the outfit which lost all 14 games last season – had other ideas.
They forced a succession of scrums in the closing minutes, with both Mike Snook and Dan Wheatley being yellow-carded as Bath were forced to concede penalties. When one was awarded in front of the posts, Leeds – who had led 14-12 at half-time – elected for a simple kick to take the spoils.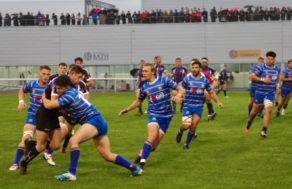 Aaron James, Head of Rugby at the University of Bath, said: "We were within seconds of winning but our discipline let us down a wee bit, so there is a bit of frustration there from the boys as we hoped to do better at that.
"They're disappointed they weren't able to win for such a big crowd tonight but I'm proud of them for their commitment and there are a lot of fixable things. Louis [Messer] and Mark [Lilley] will already be working on things for Durham away next week."
Captain Britton added: "We said before the game that discipline was going to be one of our main points to work on but it cost us in the last few minutes. We talk about momentum shifts and it definitely shifted a few times in that game. I thought our forwards dominated theirs, our lineout worked really well, but it was just the little things that cost us.
"Everyone is looking forward to Durham next week, it's a place we know well and we do quite well on the road so we will look to put right some of the problems we had today."
Despite the wet and windy conditions, the Bath fans turned out in force for the first match of the season and saw a try inside the opening five minutes.
As with many of their tries last season, it came from a drive from a 5m lineout with hooker Frampton touching down.
Bath, supported by partners Investigo, were well on top in the opening 20 minutes but couldn't force a second try and paid the price when, from Leeds' first attack, impressive fly-half Connor Lloyd darted through from close range for a fine try.
Sam Fox's conversion put the visitors ahead and he added the extras once again in the 34th minute after a superb solo try from Collier, who twice feinted to pass before jinking through from 40m to touchdown.
Roared on by the vocal home fans, Bath regained the momentum in the closing stages of the half and forced another close-range lineout. Leeds managed to hold up the initial push but fly-half Petrozzi found a gap and darted over for a try, which Flinn converted to cut the half-time deficit to 14-12.
The second half began like the first, with Bath on the front foot and Davies driving over from a lineout to regain the lead. Flinn's conversion stretched the gap to five before Lloyd responded with a penalty.
Back came Leeds again and their dominance in the scrum led to Sam Allan racing over in the 63rd minute, despite a brilliant last-ditch attempt by Davies to hold him up. Lloyd's excellent conversion, from the touchline and into the wind, put the visitors 24-19 up.
Bath withheld more pressure before forcing a penalty which Flinn kicked to touch. Again the hosts put their lineout drive to good effect as captain Britton collected the throw and barged over, with Flinn's fantastic conversion giving Bath a two-point advantage.
It looked like that might be enough but Leeds had other ideas and forced a scrum ten metres from the Bath line. The hosts were penalised on several occasions as they tried to stand resolute, with Snook and Wheatley being sin-binned, and Collier eventually made them pay to spark wild celebrations from the visiting players.
The University of Bath's next home match will be played at The Rec, Bath Rugby's world-famous ground, on Wednesday, October 18 (6.30pm).
The eagerly-awaited Anniversary Game, sponsored by Iesis Group, will see the Blue and Gold take on old rivals Loughborough University in a now annual fixture celebrating the University of Bath receiving its Royal Charter in October 1966.
More than 5,500 students, staff, alumni and rugby fans attended last year's game at The Rec and organisers are hoping for an even bigger turnout this time round, with admission once again free.
Before that match, the University of Bath face two away trips – to Durham University on October 4 and Cardiff Metropolitan University on October 11.
For more information on the rugby programme at the University of Bath, visit www.teambath.com/rugby.
Tonight's match stats
University of Bath: 15 Jack London, 14 Harry Close, 13 Craig Duncan, 12 Charlie Dunbar, 11 Will Partington, 10 Will Flinn, 9 Luca Petrozzi; 1 Ben Gasson, 2 George Frampton, 3 Austin Hay, 4 Will Britton (C), 5 Scott Russell, 6 Jack Davies, 7 Mike Snook, 8 Stef Osman Wiggan. Replacements: 16 Jordi Den Hartog, 17 Dan Wheatley, 18 Bradley Packham, 19 Derryn Jones, 20 Josh Lilly, 21 Louis Mulholland.
Tries: Frampton, Petrozzi, Davies, Britton.
Conversions: Flinn 3.
Leeds Beckett University: 15 S Allan, 14 H Robinson, 13 D Kelly, 12 H Collier, 11 D Leake, 10 S Fox, 9 C Lloyd; 1 R Everleigh, 2 H Newborn, 3 X Valentino, 4 A Wadden, 5, S Nel, 6 J Vissor, 7 T Lloyd, 8 T Francis. Replacements: 16 T Nuku, 17 C Cade, 18 N Riding, 19 J Teague, 20 B Dixon, 21 C Venebles, 22 J Elliott, 23 S Theron.
Tries: Lloyd, Collier, Allan.
Conversions: Lloyd 3.
Penalties: Lloyd, Collier.
Referee: Anthony Woodthorpe.
Assistant referees: Andy Wigley, Fred Spong.
Attendance: 900.