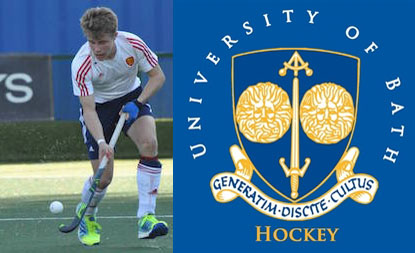 It's been an exciting few weeks for hockey player Tim Nurse, who started a degree at the University of Bath last month and is now out in Malaysia representing Great Britain U21 in the prestigious Sultan of Johor Cup.
Nurse, who is studying Sports Performance, is part of an 18-strong squad for the annual tournament which this year will see GB take on Australia, India, Japan, United States and the host country.
The step up to U21 level follows a highly-successful junior career for Nurse, who has been capped several times for England U18 and U16. He also won the 'Youth, Boys 18 and under' accolade at this year's Hockey Writers' Club Higgins Group Youth and Junior Player of the Year Awards.
As well as the University men's team, midfielder Nurse will also play for Team Bath Buccaneers in the EHL West Conference having previously competed at that level for Isca.
Nurse will be hoping to emulate fellow Sports Performance student Peter Scott and former Buccs player Liam Sanford – they both competed at the Sultan of Johor Cup in the past before going on to earn senior caps for their country.
The 2017 tournament begins on Sunday (October 22), with GB facing Malaysia in their opening fixture.