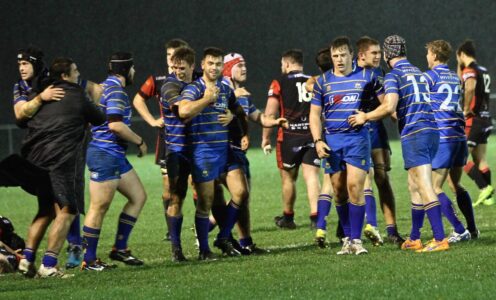 A Levi Davis try in the dying moments gave the University of Bath men's 1st XV a well-earned and confidence-boosting 24-22 victory over Hartpury College in tonight's BUCS Super Rugby West Country derby.
The hosts, sponsored by IKON Construction and supported by Investigo, looked set for another frustrating evening when a try from replacement Toby Hill gave Hartpury the lead for the first time with just a couple of minutes to go.
However, Bath were not to be denied and, when they forced a penalty from the restart, they kicked to the corner rather than go for the points which would have levelled the scores. They were rewarded when, after Hartpury held up the initial drive, England U19 winger Davis was adjudged to have touched down for the winning score.
The players roared with delight on the final whistle as they celebrated their first home win of the season.
Head Coach Aaron James said: "We don't often beat Hartpury so that's a scalp we will enjoy. We made it hard for ourselves again but I'm really pleased for the boys.
"We had only won one of our first seven games but the most important thing is that we didn't panic. The coaches have worked really hard and the squad have been really honest about themselves, why we weren't performing and what we needed to do to start winning.
"I thought we took a really big step there today. We still have to work on our discipline and make sure we are on the right side of the penalty count but given the character and the way the boys have stuck together over the past few weeks, I am pleased they got their reward."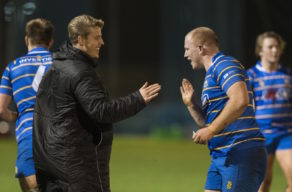 Captain Will Britton added: "It was a tough game – the conditions were obviously far from ideal – but the boys managed to stick in there and execute it at the end. We've been on the other end of that a few times this season but we have been working hard in training for the past couple of weeks and I think that showed.
"Obviously there are lots of positives to take from that but we just need to keep our discipline and reduce the penalty count going forward. A big thank you to everyone who turned out to support us in this miserable weather."
Both teams went into the match looking for a win to push them up the table having only recorded one victory apiece previously this season, both away to bottom club Nottingham.
Bath were playing into a very strong wind in the first half but they handled the conditions well, particularly in the opening 20 minutes. They withstood some expected early pressure before forcing a couple of penalties which were kicked into the corner to deploy their big weapon – the lineout drive.
Hartpury managed to fend off the first one but only at the expense of another penalty and another lineout drive. Craig Duncan was held up on the line but prop Austin Hay managed to burrow through for the first try of the night, well converted by Will Flinn.
The visitors responded with an Elias Caven penalty but when Hartpury prop Alex Saville was sin-binned moments later, Bath took full advantage by again kicking the resulting penalty into the corner and driving over from the lineout through Scott Russell. Flinn's conversion attempt into the fierce wind drifted wide.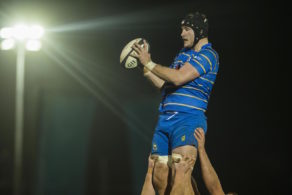 Hartpury took off number eight Tom Everard to put Tom Heard into the front row and the replacement prop had a big impact, scooping up a loose ball in the Bath 22 to scamper over for a try.
Caven was left with a simple conversion to cut the gap to 12-10 and he had a chance to put the visitors ahead with the last kick of the half, only to pull a penalty attempt wide in the blustery conditions.
Tempers flared in the early stages of the second half and both teams had players sent to the sin-bin, props Hay and David da Costa departing for Bath and replacement Hill for Hartpury.
However, despite being a player short, Bath dealt with the pressure well before a great clearing kick by Flinn put Hartpury back in their own 22. Doughty pounced on a fumbled lineout and, from the resulting maul, Russell showed great determination to break through two tackles and touch down.
Flinn's conversion put Bath 19-10 up but, with both teams back to full strength, Hartpury quickly hit back as Maliq Holden forced his way over for a try brilliantly converted by Caven.
Bath were suddenly under the cosh and allowed errors to creep back into their game. They were caught cold by a short lineout, allowing Hartpury to make up 40 yards, and while the initial sortie was blocked, Hill barged over in the corner to put the visitors ahead for the first time.
It was the third time this season that Bath had let a lead slip at home in the closing stages but, unlike against Leeds Beckett and Northumbria, they managed to find a positive response and Davis's last-gasp try ensured they claimed a very welcome victory.
There is one more BUCS Super Rugby match at the Sports Training Village before the Christmas break, with Durham University visiting on Wednesday, December 6. Kick-off is 6.30pm and admission to spectators is free.
Before then Bath face a trip to Yorkshire next Wednesday (November 29) to face high-flying Leeds Beckett, who snatched a single-point victory with the last kick in the reverse fixture on the opening week of the season.
For more information about the rugby programme at the University of Bath, visit www.teambath.com/rugby.
Match stats
University of Bath: 15 Will Partington, 14 Finn Murphy, 13 Will Hughes, 12 Craig Duncan, 11 Levi Davis, 10 Will Flinn, 9 Luca Petrozzi; 1 Austin Hay, 2 Tom Doughty, 3 David da Costa, 4 Will Britton (c), 5 Scott Russell, 6 Mike Snook, 7 Chris Barry, 8 Jack Davies. Replacements: 16 Beck Cutting, 17 Arthur Cordwell, 18 Bradley Packham, 19 Derryn Jones, 20 Tom Bottoms, 21 Louis Mulholland, 22 Max Senior.
Tries: Hay, Russell 2, Davis.
Conversions: Flinn 2.
Hartpury College: 15 Victor Pisano, 14 Elias Caven, 13 Maliq Holden, 12 Dwayne Burrows, 11 Rhys Tudor, 10 Nick Carpenter, 9 Ben George; 1 Luke Boon, 2 Joe Mullis, 3 Alex Saville, 4 Seb Mummery, 5 Angus Southon, 6 Tom Pashley, 7 Max Clementson, 8 Tom Everard. Replacements: 16 Toby Hill, 17 Luke Stratford, 18 Tom Heard, 19 Harry Wilson, 20 Harry Holland, 21 Daniel Openshaw, 22 Robbie Faulkner.
Tries: Heard, Holden, Hill.
Conversions: Caven 2.
Penalties: Caven.
Referee: Ben Wilde.
Assistant referees: Andy Wigley, Stuart Dillon.
Attendance: 250.