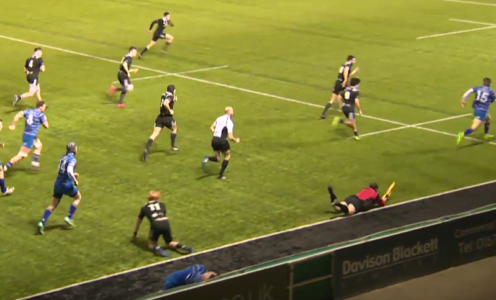 The University of Bath men's 1st XV scored five tries at Newcastle's Kingston Park on Friday but still found themselves on the wrong end of a 37-33 scoreline after a cracking BUCS Super Rugby match against Northumbria.
The visitors, sponsored by IKON Construction and supported by Investigo, scored twice in the opening ten minutes before Northumbria hit back with two converted tries and two penalties of their own to lead 20-14 at the break.
Bath kept battling away in a second half that saw both teams run in three tries but ultimately they just fell short against a Northumbria side that went top of the league thanks to their hard-fought bonus-point success.
Just 33 seconds were on the clock when, with the referee playing advantage following a Northumbria knock-on, Will Partington scooped up the loose ball and ran in from 25 yards for Bath's opening try, which he also coolly converted.
Joshua Bragman kicked a penalty for Northumbria but Bath increased their lead in style when, after a flowing move, Will Hughes surged down the right flank before producing an outstanding pass over the defence to find Luca Petrozzi in space to touchdown under the posts. Partington again converted to put the visitors 14-3 up with just ten minutes gone.
Northumbria responded by applying plenty of pressure but Bath defended superbly before their resistance was finally breached in the 25th minute by winger Will Muir. Bragman's conversion and a penalty moments later reduced the gap to one point before, with the last play of the half, flanker George Bordill was allowed to nip through for a converted try to put the hosts 20-14 up at the break.
Bath again started the second half brilliantly and, after a charge by Scott Russell put them on the front foot, a stunning offload from Partington sent Levi Davis over in the corner. Partington's conversion restored the visitors' slender advantage.
However, that lasted just four minutes before a Ned Newman try regained the momentum for Northumbria, who went further ahead when Ruairi Howarth touched down to make it 30-21 to the hosts.
Bath refused to lie down, though, and another fantastic run by Partington saw the full-back score his second try of the game to earn the visitors a bonus point but any hopes of a comeback were dealt a blow when Aeden Moloney touched down at the other end and Bragman added the conversion.
There were still 20 minutes of the game remaining and Bath kept plugging away, getting their reward in the closing stages when replacement Mike Snook forced his way over following a lineout drive. Partington again added the extras as the match finished 37-33 to Northumbria, who went top of the table as a result.
Bath have their final BUCS Super Rugby home fixture of the season on Wednesday (February 7) when they welcome Nottingham Trent to the University of Bath Sports Training Village. Kick-off is 6.30pm and admission is free.
Click here for more information about the rugby programme at the University of Bath.