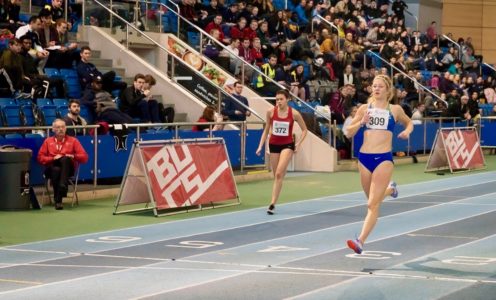 Student-athletes at the University of Bath won 28 medals across five different sports during a successful visit to Sheffield for the 2018 BUCS Nationals.
Among the eight gold medals was a thrilling 200m title on the athletics track for Beth Close (pictured) after a storming finish. She then anchored the women's 4x200m relay team to another tremendous victory as they retained the title for Bath.
MJ Church ambassador Anna Hopkin's 50m freestyle gold was one of four medals the Thompson Education Trust Sporting Scholar won in the Ponds Forge swimming pool.
King Sporting Scholar Prisca Awiti-Alcaraz and Thomas Nash won their respective U63kg titles in the judo competition and there was plenty of success for the University's karate squad, who were the best-ranked team in the competition. Zachariah Barrow and Anna Blewden both won gold, as did the men's kumite team.
ATHLETICS | "Even she was surprised with that victory" 😱

A strong sprint finish from Beth Close of @TeamBath, sees her crowned the women's 2⃣0⃣0⃣m #BUCSNationals Champion for 2018

💻Blog and live stream 👉 https://t.co/kOCfq53b3N pic.twitter.com/n8huKpKqHs

— BUCS (@BUCSsport) February 18, 2018
ATHLETICS | Incredible scenes in the final lap of the women's 4⃣ x 2⃣0⃣0⃣m @TeamBath retain their #BUCSNationals title, thanks to a strong fourth leg from 2⃣0⃣0⃣m gold 🥇medallist Beth Close

💻 Blog and live stream 👉 https://t.co/kOCfq53b3N pic.twitter.com/YSVagz6KnI

— BUCS (@BUCSsport) February 18, 2018
Roll of honour
Athletics
Beth Close (Sport and Exercise Science) – Women's 200m: Gold
Women's 4x200m relay: Gold

Ellie Bilsland – Health and Exercise Science
Georgia Silcox – Sport and Exercise Science
Olivia Caesar – Sport and Exercise Science
Beth Close

Chari Hawkins (International Education & Globalisation) – Women's 60m hurdles: Silver
Chari Hawkins – Women's Long Jump: Silver
Badminton
Men's Doubles: Bronze

Angus Pederson – Chemical Engineering
George Priestman – Sports Performance

Women's Doubles: Bronze

Libby Mcmorrow – Economics
Devon Minnis – Mathematical Sciences
Judo
Prisca Awiti-Alcaraz (Sports Performance) – Women (1 Kyu & above) Under 63kg: Gold
Thomas Nash (Mathematics) – Men (1 Kyu & above) Under 73kg: Silver
Callum Osbourne (Computer Science) – Men (2 Kyu & Below) Under 60kg: Bronze
Men's Judo Team: Bronze

Rob Williams
Thomas Nash
Adomas Puzelvicius – Mathematics and Physics
Harry Stone – Sport and Exercise Science
Jake Wingrove – Sport and Exercise Science

Women's Judo Team: Bronze

Beth Ambrose – Sports Performance
Laura Birks – Mathematics
Hannah Rogers – Chemistry with Industrial Training
Karate
Zachariah Barrow (Molecular and Cellular Biology) – Men's Novice Kumite + 80: Gold
Anna Blewden (Natural Sciences) – Women's Novice Kumite – 63: Gold
Men's Team Kumite: Gold
Asuka Peace (Physics) – Women's Senior Kumite – 61: Silver
Women's Team Kumite: Silver
Rina Matsunaga (Politics and International Relations) – Women's senior Kumite – 55: Bronze
Charlie Wedd (Biochemical Engineering) – Men's Novice Kumite – 80: Bronze
Mixed Team Kata: Bronze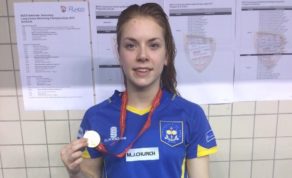 Swimming
Anna Hopkin (Sport and Exercise Science) – Women's Open 50m Freestyle: Gold
Tom Derbyshire (Sport and Exercise Science) – Men's open 1500m Freestyle: Silver
Shauntelle Austin (Natural Sciences) – Women's Open 200m Butterfly: Bronze
Jacob Greenow (Natural Sciences) – Men's Open 200m IM: Bronze
Anna Hopkin – Women's Open 50m Butterfly: Bronze
Anna Hopkin – Women's Open 100m Freestyle: Bronze
Oliver Maltby (Economics) – Men's Open 100m Butterfly: Bronze
Men's open 400m Freestyle team: Bronze
Women's Open 400m Medley team: Bronze

Shauntelle Austin
Rosie Foden – Health and Exercise Science
Anna Hopkin
Emily Wood