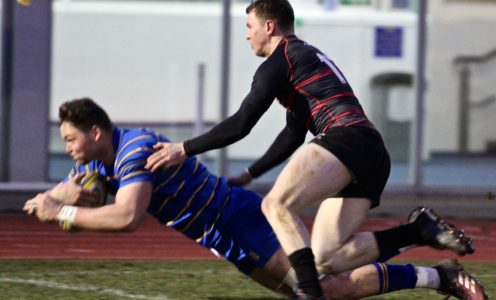 Two high scoring phases at the beginning of each half proved the cornerstones of a 58-15 ten-try home win Wednesday for the University of Bath first XV team against Cardiff University in the last-16 of the BUCs Super Rugby Championships.
Cardiff held the floodgates in the first half, countering the Ikon-sponsored and Investigo-supported Bath side's three opening tries with two of their own. Pressure mounted on the visitors in the second half with some powerful, driving moves from the Bath forwards.
The win puts coach Aaron James' side through to an away quarter-final at Northumbria University next week.
"You can't score sixty-odd points without working together as a team and it's something to be really proud of tonight", said Bath captain Will Britton of a performance where multiple names made the score sheet.
"When the momentum slipped a little the guys showed their resilience tonight. We were a bit disappointed with the processes that led them to score three tries but It was an enjoyable night and well-deserved", said coach James.
Tom Doughty scored the first of three early tries which saw the home side canter to a 17-0 lead in the opening 15 minutes. Doughty's try was converted by Will Partington – the first of three from him. Three minutes later Will Hughes and Craig Duncan linked effectively in attack to put flanker Jack Davies through with a clear 15 metre run to the line.
Levi Davis showed his pace at inside centre to slice through the Cardiff defence with 15 minutes gone and set up the move which saw Miles Reid over the line.
Sensing a potential rout the 300 plus crowd were quiet in the still but cold evening but Cardiff proved their mettle to hit back with a sizzling interception try from inside their own 25 for Adam Sadbki. Cardiff might have scored almost immediately again only for their attack to knock the ball on.
Bath hit back with a chip and slam effort from Levi Davis to ease out to a 22-5 lead but Cardiff countered with a quick-fire effort of their own again from Sadbki who benefitted from a scything and pacey Harry Griffiths run.
The second half proved relentless from the home side who went on a six-try spree sparked once again by Doughty but this time in the opening minute. Partington converted twice- from Doughty's 41 minute effort – and when Davies went over for the second time on 52 minutes. Beck Cutting and Will Flinn – with a poacher's try off the back of a forwards move – took tries and Chris Barry's powerful run and turn of pace brought up his second try of the half to close out the game at 58-15.
Cardiff reaped scant consolation from a stylish Harry Land try from a well-worked Sadbki off-load. Earlier the double Cardiff try-scorer had been sin-binned for a deliberate knock on.
Bath's victory tonight sees them face Northumbria, the second-placed team in the league, away in the quarter-finals.
Tonight's match was preceded by a minute's applause in memory of James ('Hux') Huxtable, a recent alumni, who passed away last week in an accident in London.