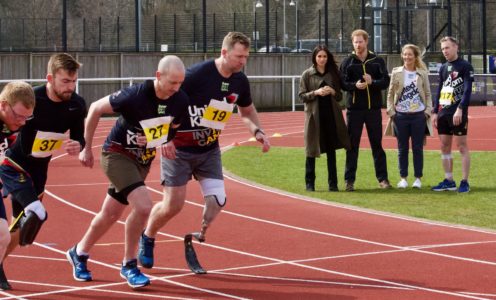 HRH Prince Harry and fiancee Meghan Markle marked the start of three days of inspirational competition at the University of Bath as they visited the Invictus Games UK Team Trials at the Sports Training Village on Friday.
It is the third successive year that the STV has hosted the UK Trials and, as in 2016 and 2017, Prince Harry – Patron of the Invictus Games Foundation – was once again on hand to cheer on the hundreds of competitors hoping to book their place at the 2018 Games in Sydney.
He was joined this time by Ms Markle, ahead of their wedding next month, and they began their visit at the outdoor athletics track where they spoke to the track and field athletes competing across a range of events.
They then made their way to the Team Bath Arena to watch the indoor sitting volleyball trials, again meeting the wounded, injured and sick servicemen and women, both serving and veteran, taking part.
Among the athletes that Prince Harry and Ms Markle spoke to was Army veteran Kelly Ganfield, who trains at the University of Bath. She is visually impaired after suffering two strokes due to a rare blood condition, Antiphospholipid syndrome, and has a special pair of glasses that illustrate how restricted her vision is – something that both Prince Harry and Ms Markle experienced.
"I thought I'd offer Prince Harry the chance to wear the glasses and I was absolutely gobsmacked when he tried them on," said Ganfield, who ran in the 100m and 200m trials today and will compete in the rowing on Sunday.
"He said it was incredible that I could run the way that I do with the vision that I have. He remembered that I row as well and said 'you row like hell for a little person!' Meghan tried them on too and said it was pretty amazing to do what I do with the vision I have – that was before my daughter Bethany distracted her!
"I knew Prince Harry would be supportive like that because he is one of the guys, he has lived the military life and knows what it is all about."
Among the spectators for the opening day of the UK Trials was Vancouver 2010 Winter Olympic skeleton champion Amy Williams, who returned to her former University of Bath training base to cheer on Invictus Sydney hopeful Richard Mearns.
He was accompanied by assistance dog Ziggy, provided by the Veterans With Dogs charity that helps veterans with Post-Traumatic Stress Disorder (PTSD) and other mental health conditions cope better with their symptoms and enable them to lead more independent lives.
"I met Richard when we were sat on the same table at the Military Awards last year and we have become good friends," said Williams. "I am helping out with Veterans With Dogs, it is such a brilliant organisation, and it has been great supporting Richard and the other competitors today."
The Invictus Games is the only international sports event for wounded, injured and sick servicemen and women. Sydney will be the fourth city to host the Games after London in 2014, Orlando in 2016 and Toronto in 2017, with this year's edition taking place from October 20-27.
The UK Team Trials – run by Help For Heroes with support from the Ministry of Defence, The Royal British Legion and the Endeavour Fund – are taking place until Sunday. More than 400 athletes will be competing for one of the 72 UK team places on offer, with 45 per cent of the hopefuls never having applied for an Invictus Games before.
As well as athletics and sitting volleyball, trialists will also be competing in archery, swimming, wheelchair basketball and wheelchair rugby over the weekend – all in the University's world-renowned multi-sport facilities.
University of Bath Director of Sport Stephen Baddeley said: "We were delighted to welcome Prince Harry back to the Sports Training Village for a third year and also welcome Ms Markle for the first time. We hope they enjoyed their visit to our impressive facilities that are so ideally equipped to host these multi-sport trials.
"We are sure their visit will have inspired the hundreds of UK team hopefuls and we wish all taking part the best of luck for the weekend ahead."
Reaction to the royals
Pentathlon GB athlete Jo Muir, a University of Bath Sports Performance graduate, said: "It's fantastic for the University to host the Invictus Games Trials again. There's such a buzz around today, everyone is so excited. It's great to see so many athletes coming and competing here, fantastic to show off our facilities and it was exciting to see Harry and Meghan.
"It's brilliant training here. We've got amazing facilities, we've got access to an Olympic-sized pool, running track and we've got our own shooting range by the side of the running track which is fantastic. We've got the high performance gym which we use, that's great. Overall, it's brilliant."
Local children Toby and Kit said: "My mum suggested a couple of days ago that there was this thing called the Invictus Games going on at the University and Prince Harry was going to be there, so we all get very excited and were like 'ooooh let's go!'. It has been amazing."
Badminton player Adam Colley said: "I'm quite proud that the Invictus Games Trials are here, to be honest with you. We've got so many heroes coming here to compete at such a big event."