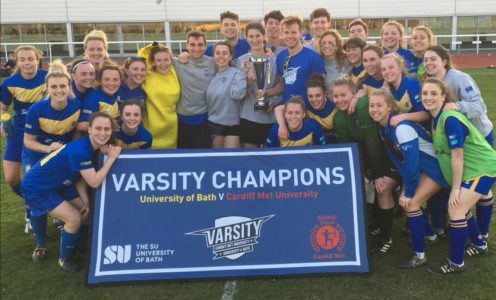 There was plenty of sporting fun in the sun as University of Bath students won their annual Varsity fixture against Cardiff Met for a third successive year.
The warmest day of the year ensured there were big crowds and a tremendous atmosphere for the student sport showdown, which this year took place at the Sports Training Village and Founders Hall.
Among the highlights of the ten wins from 13 matches for Bath were a 43-40 comeback victory for the men's 1st XV, double delight in the hockey, big victories for the water polo and netball teams, and a 2-1 win for the women's footballers in the final game of the day.
---
Varsity 2018 results (University of Bath score first)
Men's badminton – 7-1.
Wheelchair basketball – 28-19.
Women's rugby – 26-49.
Men's hockey – 5-1.
Women's basketball – 45-76.
Women's water polo – 22-9.
Men's rugby – 43-40.
Volleyball – 2-0.
Men's basketball – 78-69.
Men's football – 1-2.
Women's hockey – 3-0.
Women's football – 2-1.