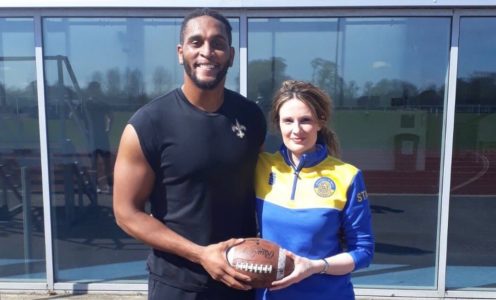 American Footballer Alex Jenkins has praised the University of Bath as "the best sports uni in the UK" after using its world-renowned training facilities to step up his preparations for the 2018-19 NFL season.
Jenkins, a defensive end for the New Orleans Saints, spent two weeks working out at the Sports Training Village during a recent close-season return to his home city of Bath.
Following a bespoke programme put together by Team Bath physiotherapist Katy Williams, Jenkins did American Football-specific position drills with members of the University's BUCS Super Rugby squad and trained using the high-performance gym, the indoor athletics track and the judo dojo. He also received support from the Team Bath Physio & Sport Science Centre.
"We used the off-season programme that Saints gave me as the basis but also did some other work with the coaches here, so it was a nice mix," said Jenkins, who joined Saints' International Player Pathway programme in June 2017 and has been signed to a reserve/future contract for next season.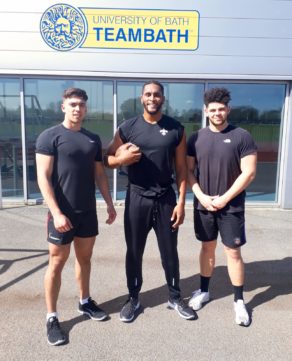 "It was great being back here. I grew up ten minutes from the University and used to play soccer for Team Bath as a kid. I did a lot of athletics here as well when I was at school, so I'm very familiar with the STV and that's a big reason why I came here for this block of training.
"It is the best sports uni in the UK and I'm very lucky to have such a great training centre on my back doorstep. I'm very happy and proud to be from Bath and the whole University was really accommodating, everyone was welcoming and friendly.
"Katy was incredible to work with, I couldn't have asked for a better person to help me through the training. She had clearly done hours of research into American Football and I am very thankful for her support.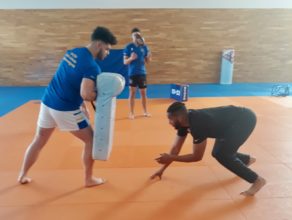 "It was great to work with the rugby players as well. They had to get used to the American Football drills but I think they really enjoyed it and I might have piqued their interest in the sport a bit."
Jenkins, who went to school at Saint Gregory's Catholic College in Bath, earned a spot in the Great Britain youth team soon after making the switch from soccer to American Football and was invited to attend an all-star high school camp in Virginia.
He was talent-spotted at the camp and earned a scholarship to play college football at the University of the Incarnate Word in San Antonio, Texas, before being recruited by Saints last summer.
"It has been a bit of a whirlwind to be honest," said Jenkins. "The goal for the season ahead is to get a starting spot for Saints' special team and build up experience playing in the defensive line. I feel I can make a big impact there because of my athletic ability, my size and speed."