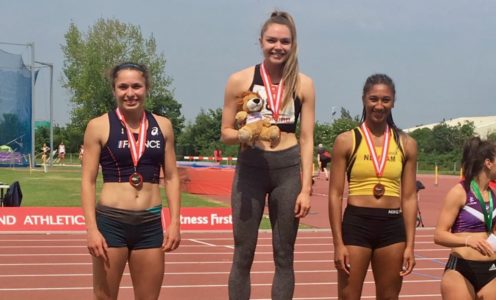 University of Bath Masters student Chari Hawkins smashed a record that had stood for nearly three decades when she claimed a runaway heptathlon victory at the England Athletics Combined Events Championships in Bedford.
Hawkins, a US international who is coached by Colin Bovell at the Sports Training Village, performed superbly across the weekend to total 6,137 points from the seven events and eclipse 1988 Olympian Kim Hagger's previous championship record set in 1989.
Day one saw Hawkins clock the fastest time of 13.56 in the 100m hurdles and clear 1.80m in the high jump before extending her overall lead with a throw of 12.78m in the shot put.
A time of 24.44 in the 200m gave Hawkins – who is studying International Education & Globalisation and supported by a Santander Sports Scholarship – a 137-point advantage over the field at the end of the first day.
Hawkins carried on her excellent form on Sunday as she soared out to 6.07m in the long jump, then threw the javelin 43.71m before wrapping up victory with a time of 2:17.64 in the 800m.
It was Hawkins' final competition in the UK before returning to the United States at the end of her course. The five-time All-American track and field athlete also won long jump gold and 100m hurdles silver at the BUCS Outdoor Athletics Championships earlier this month.