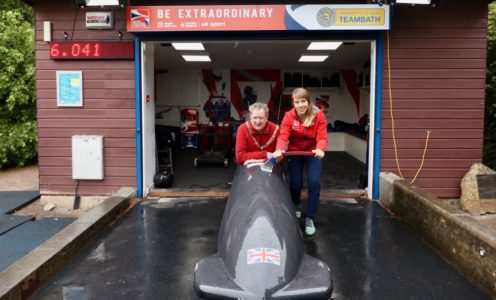 The Mayor of Bath has praised the University of Bath's unique outdoor push-start track as "a fantastic facility" after trying his hand at bobsleigh.
Cllr Ian Gilchrist got to sample the facilities, also used by Olympic skeleton champions Lizzy Yarnold and Amy Williams for their UK training, during a visit in the closing weeks of his tenure as Mayor.
He was given an introduction to the sport by Donna Creighton, a former international skeleton and bobsleigh athlete, before taking to the track where athletes practice their starts – an all-important aspect of the sliding sports where medals can be won and lost.
"It all felt very authentic and felt like I was doing the same as them – obviously not as well and not as fast but nevertheless it did feel the real thing," he said.
"It's a fantastic facility and the athletes who have trained here have made the city of Bath very proud."
The Mayor was joined for the taster session by Dan Evans, Head of Sport for the Bath Chronicle. Click here to read Dan's account of the day or click on the video link below.