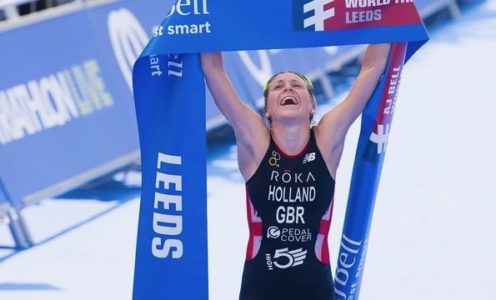 Vicky Holland, who bases her training at the University of Bath, was in fine form at the weekend, winning her first World Triathlon Series title in three years.
The Rio medallist's tenacity paid off at the AJ Bell World Triathlon Leeds as she overcame challenges along the way to surge ahead of the field and claim victory.
Earlier Britain's Jess Learmonth had led out of the swim and was the strongest cyclist on the climb out of Roundhay Park. She was joined by Taylor Spivey and Katie Zaferes (USA), who raced into town and were met with roars of noise from huge crowds. Vicky Holland had finished just behind the leading swimmers and was unable to catch them in the early stages after having issues with a cycling shoe.
She rode into town with Jodie Stimpson, Sophie Coldwell and Georgia Taylor-Brown all forcing the pace. Stimpson was unfortunately stopped in her tracks by a puncture but the hard work of the rest of the group saw them catch the leaders.
Coldwell took up the front running but wasn't able to hold on once Taylor-Brown and Holland both passed her, but for a few minutes there were dreams of a British podium sweep.
Claiming the top spot, Holland said: "It was one of those days where I had a fantastic start, but I went on to the bike and my legs wouldn't move. I started to enjoy it when I pulled away.
"It's been nearly three years since I won a big race and I wasn't sure that I would ever stand on top of a big podium like this again."