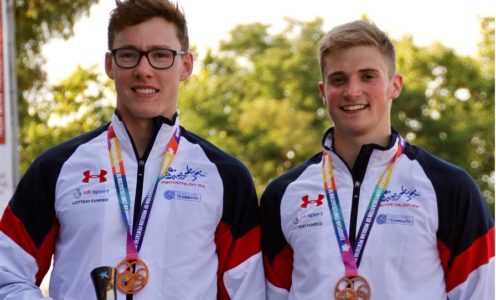 University of Bath sporting scholars Myles Pillage and Bradley Sutton claimed Pentathlon GB's second relay medal is as many days at the Junior European Modern Pentathlon Championships as they bagged bronze in the men's competition in Barcelona.
Just like female counterparts Charlie Follett and Zoe Davison, who had won women's relay gold the previous day, Pillage and Sutton – supported by Trendell and Santander Sports Scholarships respectively – were in the medal positions at the end of every discipline.
The result also underlined how far both athletes have come in the past 12 months, with the same combination having finished tenth in the men's relay at last year's Junior European Championships.
An encouraging week for Britain's rising pentathlon stars concluded with a fifth-placed finish for 21-year-olds Holly Parker and Jamie Harper in the mixed relay.
Click here to read the full reports on the Pentathlon GB website (external link).
Applications are now being taken for 2018-19 sporting scholarships from current and potential University of Bath student-athletes – click here for more information.