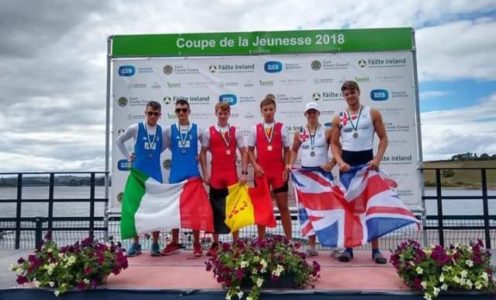 University of Bath rower Jens Hullah won a bronze medal and helped Great Britain record victory in both the men's and overall competition after an excellent weekend of rowing at the 2018 Coupe de la Jeunesse in Cork, Ireland.
Eighteen-year-old Hullah, part of the GB Rowing Team World-Class Start Programme coached by Dan Harris at the University and Minerva Bath RC, raced with Leander Club's Joe Murphy in the men's double scull at the annual two-day European U18 event.
They were clear winners of their heat on Saturday, with their time of 6:41.7 being the third-fastest overall. That meant they were awarded the bronze medals when high winds forced the finals to be cancelled in the afternoon.
Improving conditions allowed day two of the competition to go ahead without interruption and the British pair were once again victorious in their heat after a good battle against the Switzerland crew. Hullah and Murphy went on to finish fifth in the final in 6:51.5.
The results meant the double contributed 22 points to the GB men's winning total of 192. The women were narrow runners-up to France in their competition with 136 points, meaning Britain were clear victors overall as they retained the Coupe.
The GB Rowing Team World-Class Start Programme in Bath is always looking for people with the potential to be an Olympic rower. Click here for more information or email Dan Harris on dan.harris@britishrowing.org.