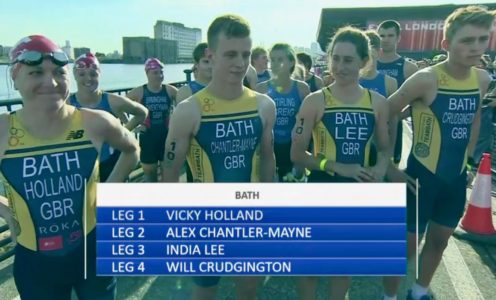 A quartet representing the National Performance Centre at the University of Bath finished sixth overall when the second British Triathlon Mixed Relay Cup took place in London Docklands on Saturday.
Olympic medallist Vicky Holland, just a week after her latest ITU World Triathlon Series victory in Canada, got the Blue & Gold off to a solid start as she clocked 17:53 for the opening leg of the 300m swim, 5.6km bike ride and 1.4km run.
University of Bath Mechanical Engineering student Alex Chantler-Mayne kept Team Bath in the medal hunt with a time of 17:04 for the second leg before 2016 European Champion India Lee – who is competing at Glasgow 2018 next weekend – closed the gap on third-placed Australia with an 18:11 leg.
Will Crudgington matched team-mate Chantler-Mayne's time almost identically, crossing the line just one second slower, as Team Bath finished sixth out of a 15-strong field in a combined time of 1:10:29. Team Leeds 1 successfully defended their title in a time of 1:08:29.
Click here to watch the Mixed Relay Cup in full on BBC Sport iPlayer (available until September 3, 2018).