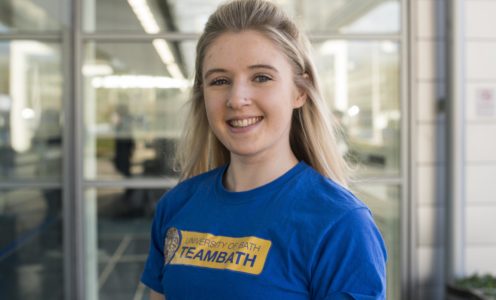 University of Bath sporting scholar Lauren Williams sliced more than a second off her personal best as she excelled for British Athletics in their U20 international match against France and Germany in Berlin's iconic Olympic Stadium on Sunday.
Williams, who is studying Management with Marketing and is supported by a Santander Sports Scholarship, reduced her 400m hurdles best from 59.21 to 58.09 during a dominant performance.
It was the perfect response by Williams, part of Colin Bovell's student training group and also coached by Wynford Leyshon at Swansea, to missing out on qualification for last month's IAAF World Junior Championships.
"I just really wanted to get 58.5 because that was the standard for the World Juniors and I hadn't hit it," she told the British Athletics website.
"All season I had been chasing that time and I hadn't run a perfect race until now, I hit my stride pattern bang on. I was in so much shock but really happy.
"It is bittersweet because I would have like to have done it before selection but it has given me so much confidence going into winter training. I know I can run the times.
"The target now is the European U23s, only half a second more and I am there. If I can take a massive chunk off like that, it gives me so much confidence."
Williams' victory helped GB & Northern Ireland finish second overall in the team event, which came ahead of Berlin hosting the European Athletics Championships this week.