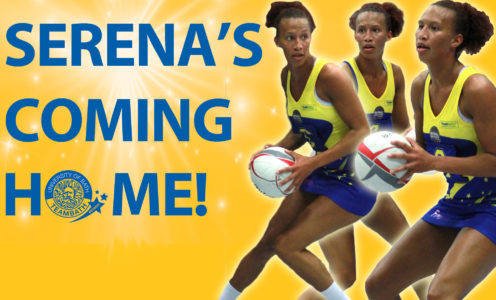 Serena Guthrie, one of the world's finest netballers and a pivotal player in England's historic Commonwealth Games success, will be returning to Team Bath Netball for the 2019 Vitality Superleague season.
In a major coup for the five-time Superleague champions, Guthrie – a dynamic and inspirational powerhouse for both club and country – will once again don the famous Blue & Gold after spending four successful years playing professionally in New Zealand and Australia.
The 28-year-old mid-court maestro developed her outstanding talent with Team Bath from the age of 16, winning three Superleague titles between 2006 and 2014, and is determined to help inspire them to more success when she returns 'home'.
"I'm really excited to come back home to the place where my netball career began and contribute positively within the franchise as a senior player," said Guthrie, who will be supported by a coaching scholarship from the Medlock Charitable Trust, a charity supported by Team Bath Netball sponsors Sitec, that will see her working in communities across the South West to pass on her on-court and off-court knowledge.
"When I left Bath I was a young athlete with little experience in the netball world. I'm looking forward to the 2019 VNSL campaign with the club with so much more experience under my belt.
"Off the court I'm looking forward to working with Team Bath and my netball coaching brand, Legacy Netball. It's going to be an exciting year for netball in the UK and it's a cool feeling knowing I'm going to be a part of it!"
Team Bath Netball Head Coach Jess Thirlby said: "It is fantastic to welcome Serena back to the Blue & Gold, and what was very much her home for a significant part of her netballing journey.
"We are very proud of all that Serena has achieved and her time overseas has reinforced what a world-class player she is. Known as one of the best, if not the best, mid-court players of the current era, Serena will have a significant and positive impact on the team in 2019.
"What is so special about Serena is not just her playing ability but her character. She inspires those around her, radiates energy and cares about the environment and the culture of the club, having played such an integral part in developing it in previous years.
"There is no doubt that Serena would have had the pick of what clubs to go to but it is both testament to her loyalty and the club that she has chosen to return to Team Bath.
"We feel confident we can support Serena and her development both on and off the court in this World Cup year and will work tirelessly with her and the team to get the best out of each other."
Guthrie's prodigious talent first earned her a place in the Team Bath Superleague squad in the 2006-07 season when she was still studying for her A-levels.
She won the title in her first season and went on to claim two more crowns during the next eight years, playing a pivotal role in the Blue & Gold's last Superleague success in 2013.
Her rapid progress through the Team Bath ranks was matched at international level where Guthrie had played for England at U17, U19, U21 and senior level by the age of 17.
She made her senior international debut against Malawi in 2008 and has gone on to win more than 50 caps for the Roses, helping them claim bronze at both the 2011 and 2015 World Netball Championships.
Guthrie was also a driving force in the England team that famously recorded a series victory over Australia for the first time in 2013.
Shortly after narrowly missing out on a medal at the Glasgow 2014 Commonwealth Games, Guthrie took the decision to move to the professional ANZ Championship and played for Northern Mystics of New Zealand, where she was named as the league's Rookie of the Year.
When the league disbanded in 2017, she made the switch to Sydney-based Giants Netball and was named as the club's Most Valuable Player as they finished runners-up in the inaugural Suncorp Super Netball Grand Final.
Guthrie has enjoyed another stellar 2018 season, inspiring Giants to top spot in the league table and being named in the Suncorp Super Netball team of the year.
She also famously won the Commonwealth Games title with England and will represent the Roses again in September's Netball Quad Series against New Zealand, Australia and South Africa before returning to the UK to start an exciting new phase of her career with Team Bath.
A massive 2019 season will conclude with the Netball World Cup in Liverpool, where England will be looking to emulate their Commonwealth Games success by winning gold for the first time.
Team Bath Netball are sponsored by Sitec and supported by partners Mogers Drewett, Soldi and Netball South West. Centurion Chartered Financial Planners are supporting the team's performance analysis and people development capabilities, Viper 10 are their Sportswear Supplier and Skins provide the team with compression wear.