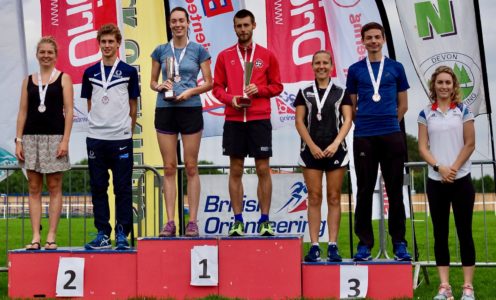 Jonathan Crickmore and Alice Leake won the men's and women's open titles respectively when hundreds of people took part in the British Orienteering Sprint Championships at the University of Bath Sports Training Village on Saturday.
Crickmore completed the course in 13:22 to finish ahead of Jamie Parkinson (13:30) and Chris Smithard (13:42), while Leake's winning time of 13:51 put her clear of Laura Robertson (13:56) and Charlotte Ward (14:03).
An action-packed day featured competitors across eight decades of age ranges, starting from the U10s races – won by Robbie Lightfoot and Anna Todd – through to octogenarian Donald Moir in the men's 85A category.
The prizes were presented by Olympic skeleton champion Amy Williams and Steve Egan, Vice-President (Implementation) at the University of Bath. The championships were staged by British Orienteering in association with the South West Orienteering Association, Bristol Orienteering Klub and North Gloucestershire Orienteering Club.
Check out more pictures from the day here…