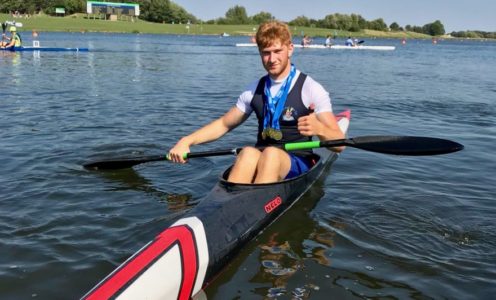 Team Bath Futures athlete Ed Nightingale won five gold medals during an excellent weekend of canoe sprint racing at the 2018 National Sprint Regatta in Nottingham.
Competing in the U16 boys' age group, Nightingale complete a clean sweep of national titles in the K1 200m, 500m and 1,000m categories before teaming up with Scotland's Jack Brockway to win the K2 200m and 1,000m finals.
It continued a successful period for Nightingale, who has built on his bronze-medal success with Team GB at the 2017 European Youth Olympic Festival by enjoying more national and international success this year including gold and two silver medals at the Piestany International Canoe Sprint Regatta in Hungary.
He will wrap up his season by representing Great Britain at the Olympic Hopes Regatta in Poznan, Poland, from September 14-16.
As a member of the Futures Athlete Development programme at the University of Bath Sports Training Village, the talented teenager benefits from a bespoke training programme designed to maximise gains and reduce the risk of injury at each stage of his growth and maturation.
"I definitely wouldn't be where I am internationally without the support I have had from the Futures programme over the last few years," he said.
"Futures gives me a well constructed gym programme to develop my overall skills as an athlete and enhance my strength. My programme is periodised so that it lines up with my needs during the season, meaning I can be confident of peaking at exactly the right time for selection and racing."
Team Bath Futures is open to sportspeople aged between ten and 18 who already compete at regional level or above in their chosen sport or who show great athletic potential. Click here for more information.