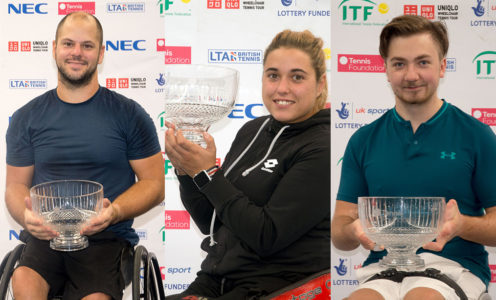 The international nature of the Bath Indoor Wheelchair Tennis Tournament was illustrated by its roll of honour as players from six countries claimed the titles after another excellent week of world-class competition at the University of Bath Sports Training Village.
Two-time Wimbledon champion Stefan Olsson of Sweden secured his first Bath men's singles crown after coming out on top 5-7, 7-5, 7-6(7) in an epic final against France's Stephane Houdet that lasted just two minutes short of three hours.
"I've been playing really well all week and I've just had a blast," said Olsson, who also partnered Belgium's Joachim Gerrard to a 6-4 6-4 victory over Houdet and Argentina's Gustavo Fernandez in the men's doubles final.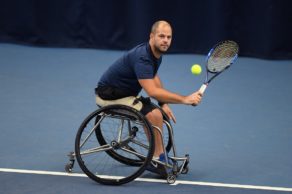 "He's (Houdet) really smart out there. I really have to try and out-think him, which is not the easiest part to do. I changed up a little bit from the second set and it worked really well. I had a little bit of a bad start in the third but I just kept on fighting really hard and got it back. I was down a couple of match points, so I'm super happy with the win."
Italy's Giulia Capocci wrapped up the second ITF 1 Series women's singles title of her career with a 6-3, 6-2 victory over South African top seed Kgothatso Montjane.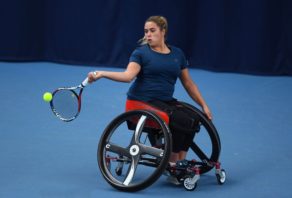 "I've played very well this week," said Capocci, who dropped just one set on her way to the title. "I love to win, of course, but it's more difficult to win a tournament when it's your first time here but I've loved it in Bath this week."
Victory in the quad singles capped a memorable week for 19-year-old Sam Schroder, who arrived in Bath without a seeding. After securing his first career win over world number one David Wagner of the USA in the semi-finals, Schroder produced another exceptional performance to defeat South African second seed Lucas Sithole 6-3, 6-2 in the final.
"I've played all three top seeds this week, so I can't really believe I've managed it," said the Dutchman, who only returned to competition in July after missing ten months through illness.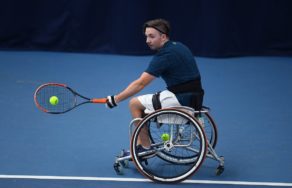 "It's been an incredible tournament for me after all that happened last year and then being able to win my first ITF 1 already. It's just crazy. I've proven that I can win against the best in the world, so that gives me a lot of confidence."
Completing the 2018 roll of honour are Marjolein Buis of the Netherlands and Japan's Manami Tanak, who beat Britain's Lucy Shuker and Germany's Katharina Kruger 6-2 6-3 in the women's doubles final.
It is the third year running that Team Bath Tennis has hosted the Bath Indoor Wheelchair Tennis Tournament, part of the UNIQLO Wheelchair Tennis Tour and the last of seven tournaments with world-ranking status organised by the Tennis Foundation in Great Britain during 2018.
The next major tennis tournament being staged at the £30million Sports Training Village is the eagerly-anticipated Fed Cup Europe/Africa Group I tie featuring eight nations – including host country Great Britain – from February 6-9 2019.