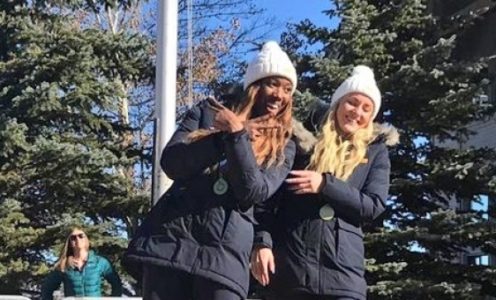 University of Bath-based bobsleigh duo Mica McNeill and Montell Douglas recorded their best-ever World Cup result on Saturday as they finished fourth in an incident-packed race at Altenberg, Germany.
The British pair had what appeared to be a cup thrown onto the track during the start of their second run and then were ranked as sixth in the official results before being rightfully upgraded after the clock was adjudged to have been nearly four-tenths of a second out of sync.
McNeill and Douglas, who ultimately missed out on a medal by just four-hundredths of a second, had led the 13-strong field after the first run as they sought a first British female World Cup in 21 years.
British Skeleton were also in World Cup action in Altenberg, where Marcus Wyatt recorded his best-ever result on the premier international circuit by placing eighth in the men's competition.
That finish matched the achievement of Olympic medallist Laura Deas in a women's race affected by heavy snow.
The next World Cup races takes place in Konigssee next weekend, with that competition doubling up as the European Championships.