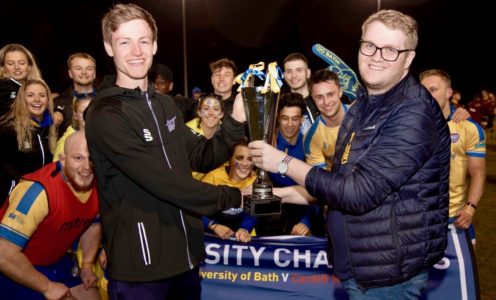 Sporting students from the University of Bath are celebrating after winning their annual Varsity fixture against Cardiff Met for the fourth year running.
It was a tightly-fought contest in the Welsh capital but, after 21 matches across 15 sports, the Blue & Gold finally took the honours by 59 points to 52.
The SU Bath Sports Officer Andy Galloway said: "It was yet another fantastic Varsity over at Cardiff this year, with a record number of fans attending from Bath. It was amazing to see the passion from our students both on the field and supporting each other from the sidelines.
"Despite it being a pretty evenly matched day, it was great to come away with our fourth title to remain undefeated and I look forward to seeing the event go from strength to strength in the coming years – hopefully with better weather!
"Thanks to everyone involved, from the athletes and supporters to the staff who gave up their whole day and more to ensure our students had a safe and enjoyable experience."
Click here to read a full report courtesy of the Bath Time student magazine.