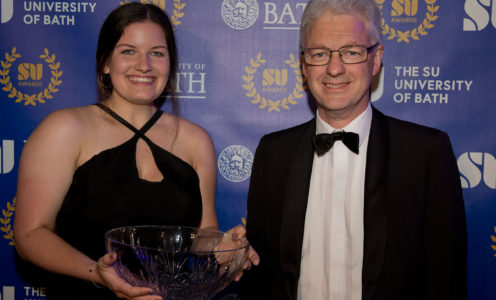 The 2019 Blues Awards proved to be a big hit for the University of Bath Volleyball Club as they claimed three of the top honours during the annual celebration of student sport.
International Management student Heleen Maes – captain, coach, treasurer and social media officer for the club – was voted by her peers as Sports Personality of the Year and received the award from Vice Chancellor Professor Ian White moments after volleyball had been named as overall Club of the Year.
Tom Sawko had earlier been presented with The SU Bath Sport Volunteer Coach of the Year award.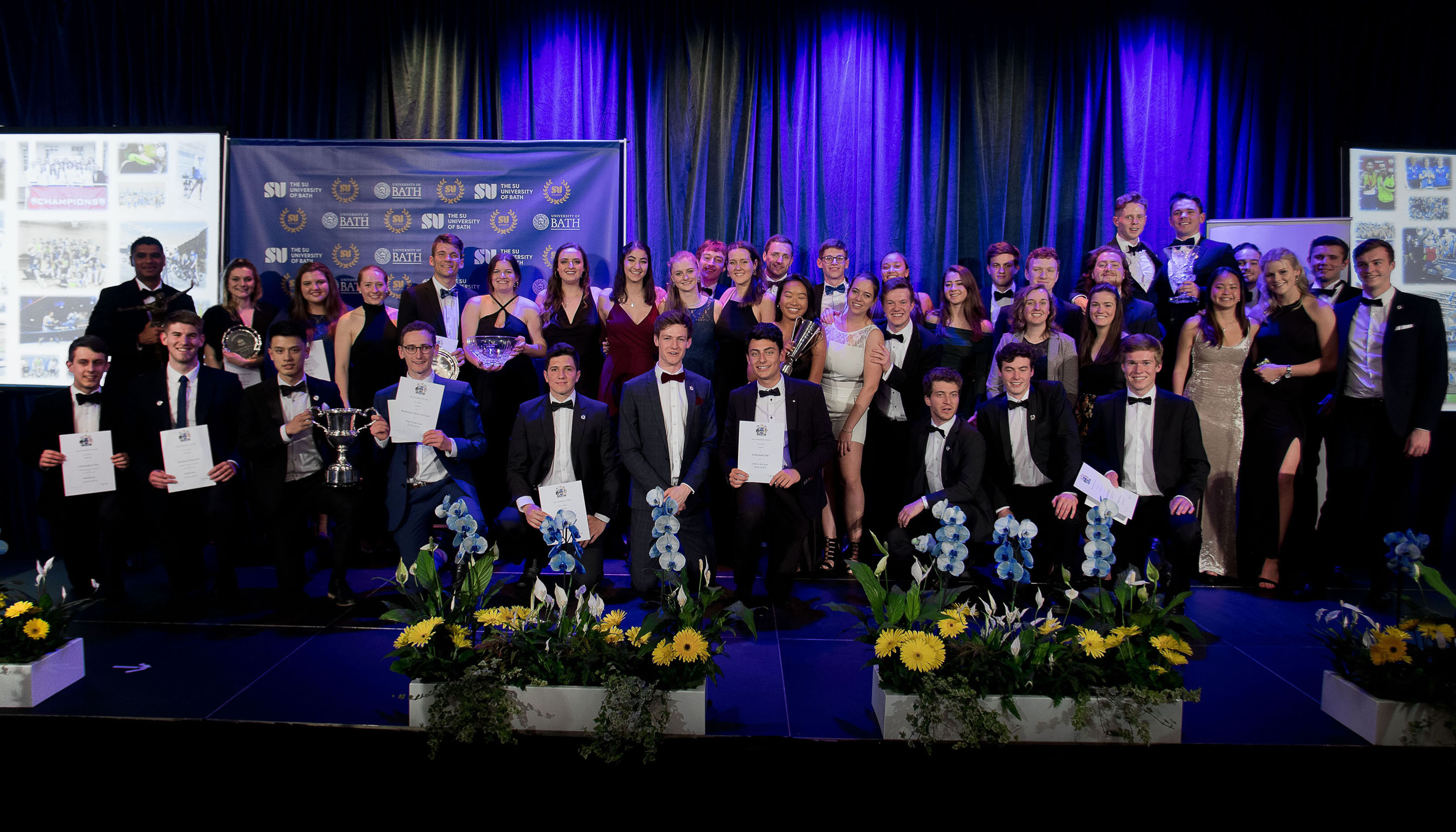 Angus Pederson (badminton), Rupert Batting (riding) and Ashia Fenwick (triathlon) were also nominated for the Sports Personality award, while cheerleading and snowboarding were placed second and third respectively in the Club awards.
Team of the Year went to the men's badminton 1sts, ahead of the women's hockey and men's ultimate frisbee teams.
The individual awards saw hockey coach Jody Paul receive the Ivor Powell Award for Coaching Excellence, while long-serving Sports Training Village facilities manager Ron Stewart was honoured with the Martyn Hedges Award.
The Tugendhat Trophy for Sporting Endeavour, recognising an individual who has switched sports to great success during their time at university, went to Welsh lacrosse international Joshua Yeoman and kickboxer Joe Knapper received the Gethin John Bevan Club Member of the Year award.
Full Blues, awarded to students who have competed for a University 1st team for two years along with two years' representation at international level, were presented to Anna Reynolds and Harry Skinner (hockey), Joshua Yeoman (lacrosse), Rupert Batting (riding), Hugo Stiles (rugby union), Emma Stacey (shooting), Charlie Griggs (squash) and ultimate frisbee trio Andrew Buglass, Georgia Murphy and Amy Van Zyl.
Honorary Blues were presented to netballer Emma Chandler, as well as World Triathlon Champion Vicky Holland and Team Bath Netball co-captain Eboni Usoro-Brown, a Commonwealth champion with England – both train at the Sports Training Village and achieved international success during the past 12 months.
The Blues Awards ceremony took place at Bath's Assembly Rooms and are organised by The SU Bath Sport, the branch of the Students' Union that co-ordinates all aspects of student sport. Click here to see a full list of award winners and more pictures.
There are 48 sports clubs for students to join, ranging from American Football to Water Polo, and all are run by a democratically-elected student committee. Click here to find out more.