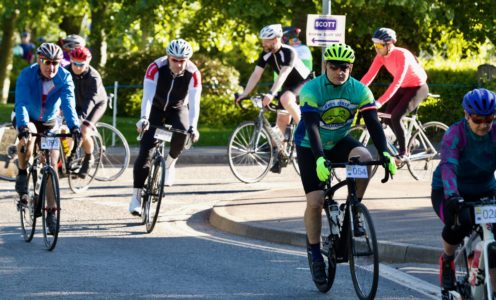 The sun shone on the second Team Bath Sportive as more than 100 cyclists enjoyed perfect conditions for a Sunday ride through the Somerset countryside.
Entrants travelled from as far afield as Ipswich, Cardiff, Cheshire and North Wales to take part, while overseas University of Bath students from Asia were also among the cyclists who enjoyed the warm weather and supportive atmosphere of the non-competitive event designed to encourage fitness and participation.
There were two organised rides on the day, with the majority of cyclists taking on the 102km route from the University of Bath Sports Training Village to Glastonbury and back.
There was also a shorter 50km route that proved popular with families and everyone who took part on the day received a free T-shirt.
Finishers could also take advantage of a free post-cycle rubdown from students on the Team Bath Training & Development Sports Massage Therapy course.
Among the clubs taking part were Somer Valley CC, Velo Club Walcot, Axe Valley Pedallers and Plymouth University BC from Devon, Team Trident, Bristol RC, Salt and Sham Cycle Club, Avid Sport and Simply Grey Cycling Club.
Plans are already in place to stage another Team Bath Sportive in 2020 with a third, longer route.