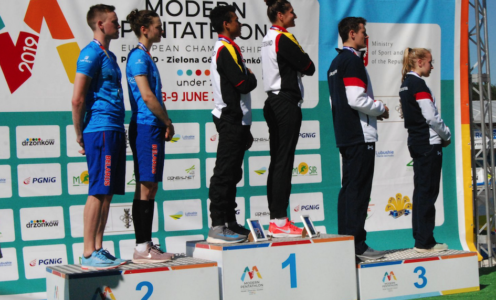 University of Bath students Georgia Hannam and Oliver Murray won mixed relay bronze as Pentathlon GB enjoyed a strong start to the 2019 Junior European Championships in Poland.
The podium place was a perfect 21st birthday present for Physical Activity & Health student Hannam, who is supported by Santander Sports Scholarship and won 18 of her 21 bouts in the fencing salle – more than any other athlete in the field.
Team Bath Dual Career athlete Murray – who studies Electronic & Electrical Engineering – came to the fore in the ride discipline, demonstrating high skills levels as he took some tight lines to limit the time penalties incurred.
That meant the Pentathlon GB duo, both supported by the Talented Athlete Scholarship Scheme (TASS), went into the run-shoot in third place and that was where they remained after a solid performance.
Picture credit: Tomasz Cygański.