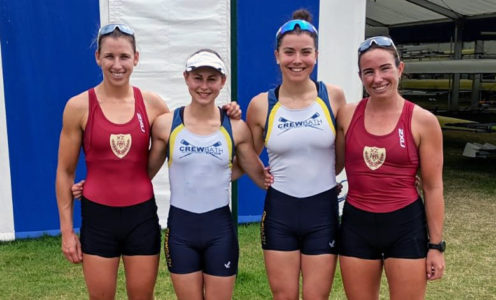 Sporting scholars Zara Mulholland and Laura Macro made history when they became the first University of Bath Rowing Club crew ever to reach the semi-finals at the world-famous Henley Royal Regatta.
The women's double scull, who are both coached by Dan Harris on the British Rowing World-Class Start Programme at the University, beat Jen Titterington and Bev Goodchild of Ipswich RC and Sudbury RC by two-and-a-third lengths in their Stonor Challenge Cup heats on Friday.
That put them through to the last four where they faced the New Zealand crew of Brooke Donoghue and Olivia Loe (pictured), who have won gold and silver at the last two World Championships and triumphed at last month's World Cup in Poland.
Mulholland and Macro – who study Civil Engineering and Sport & Exercise Science respectively and are both supported by Santander Scholarships – rose to the occasion and, cheered on by a large Crew Bath contingent, pushed the eventual champions all the way, only losing out by a length.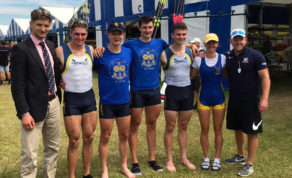 The Crew Bath coxed four of Luke Gwenter, Will England, Matt Rees, Marcus Lewis and cox Ella Kay reached the quarter-finals of the Prince Albert Challenge Cup with a three-quarter length victory over the United States Naval Academy.
They produced another impressive performance in the last eight but a strong Oxford Brookes University crew claimed the victory.
Crew Bath were also represented in the Temple Challenge Cup for men's eights, where they lost out to Purdue University from the United States.
Former Bath Start rower Jens Hullah was part of the Moseley RC men's coxed four that won the Britannia Challenge Cup.