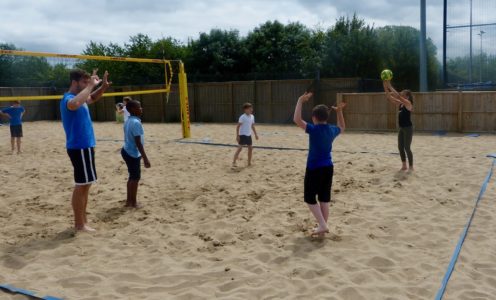 The last term of the 2018-19 school year has been a fun and inspirational one for hundreds of pupils from across the country who have paid a visit to the University of Bath Sports Training Village.
Around 1,500 youngsters aged between five and 18 have visited in the past six weeks alone, taking the number hosted by the Team Bath Tribe & Development team over the past ten months to more than 3,000.
Youngsters get to explore the £35million Sports Training Village and use the same facilities as current and aspiring Olympians and Paralympians while trying out a host of sports such as athletics, badminton, football, hockey, judo, trampolining and beach volleyball.
They also take part in multi-skill assessments, fundamental movement skills, sports specific sessions and career guidance, as well as question and answer sessions with sportpeople training at the University.
Big thanks to Jess from @TeamBath for giving our boys a fantastic experience day at Bath University today. 🏐🏃‍♂️💨 pic.twitter.com/h3ft7hKkU7

— MadDog Rugby (@MDSRugby) July 17, 2019
Sports Development Assistant Manager Jess Clements said: "It has been a hectic few weeks but a very rewarding one, with so many young people being enthused and inspired to enjoy sport in our world-class facilities.
"We have hosted a whole range of organisations from primary schools to academies and sporting education programmes like Lewis Moody's MadDog Rugby. They come from across the country and this term we had a private school from South Africa visit on their way to the Netball World Cup.
"We tailor each visit to fit the needs of the group, from youngsters looking to get active at mini Olympic Days to talented and gifted athletes. The bookings are already coming in for next year and it is great to see these visits having such a positive impact."