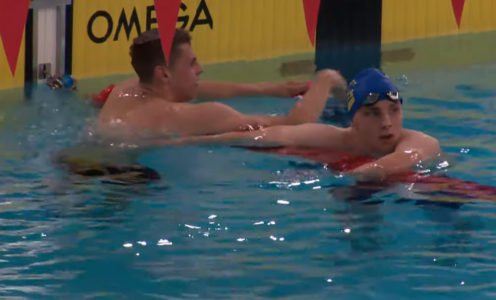 There was a hat-trick of titles for Kieran Bird and sporting scholar Jacob Greenow also struck gold as a host of University of Bath-based swimmers raced at the 2019 British Swimming Summer Championships in Glasgow this week.
British Swimming National Centre Bath swimmer Bird won 400m and 800m freestyle gold in 3:50.90 and 8:00.27 respectively, while also clocking 15:24.27 as he led a University of Bath 1-2-3 in the 1,500m freestyle.
Sport & Exercise Science student Tom Derbyshire, supported by a British Swimming scholarship, was less than half-a-second behind in 15:24.61 and bronze went to Chemistry student William Ryley in 15:44.35.
Ryley, coached by Mark Skimming, was also seventh in the 400m freestyle (3:58.83), 800m freestyle (8:19.12) and 200m backstroke (2:04.02).
Natural Sciences student Greenow, supported by a Santander Sports Scholarship, won bronze in the latter race (2:01.58) having bagged a brilliant gold in the 400m individual medley earlier in the week in 4:20.01. He was also fifth in the 200m IM in 2:03.27.
David Miller, who studies Sports & Social Science, was ninth in the 200m breaststroke in 2:20.89.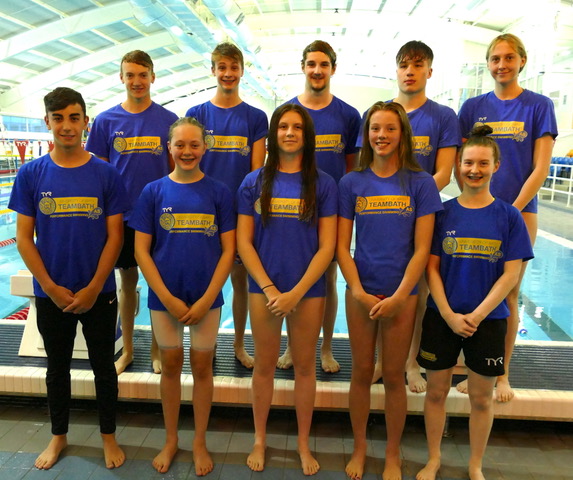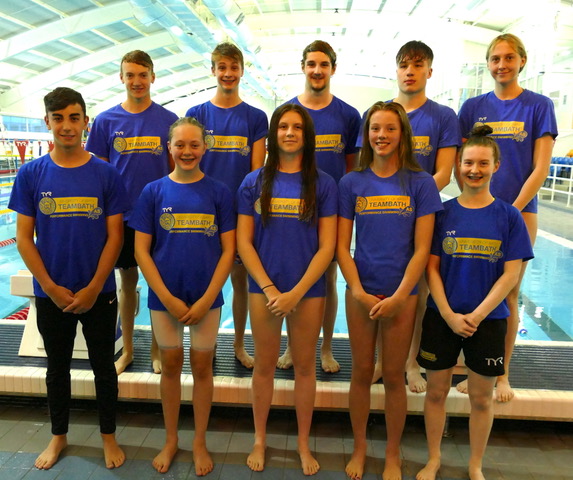 The Team Bath AS community swimming club, who train at the University, was also well represented at the Tollcross International Centre as 11 swimmers raced in the junior events.
Niamh Ward finished fourth in the 15yr 200m backstroke in 2:21.07 and tenth in the 100m backstroke, while Katie Butcher achieved a new personal best of 30.85 as she placed ninth in the 15yr 50m backstroke.
Max Adams competed in four finals, placing eighth in the 200m butterfly (2.16.38), sixth in the 100m freestyle (56.35), seventh in the 100m butterfly (1.01.16) and sixth in the 50m freestyle (25.69) while also accumulating an impressive collection of personal best times over his six events.
Olly Watts pulled out three consecutive 50m butterfly PBs in a day, including one in a victorious swim-off to win him the last place in the 13/14yr final where he finished eighth in 27.70.
The more experienced 17/18yr swimmers also made their contribution to Team Bath's 11 final places with Rhiannon Bowen eighth in the 200m freestyle (2:06.12), Laura McNab ninth in the 50m freestyle (27.76) and Mark Edmundson tenth in the 100m backstroke event with a PB of 58.21.
Aiming to improve both their competition position and gain valuable experience at national level, Team Bath AS swimmers showed determination as they put their training and technique to good use.
Bowen's 58.42 in the 17/18yr 100m freestyle put her 11th overall, a position matched by Edmundson in the 200m backstroke. He was also 17th in the 50m backstroke (27.50), as was Watts in the 13/14yr 50m freestyle (26.33) and Finlay Saunders in both the 16-yrs 100m backstroke (1:01.53) and 200m backstroke.
Rue Fowler, the youngest member of the team, gained valuable race experience at her first British Nationals as she finished 18th in the 13/14yr 200m IM. Ethan McNeil was 17th in the 17/18yr 200m breaststroke and Misty Marshall-Welling placed 22nd and 24th in the 200m and 50m freestyle respectively.