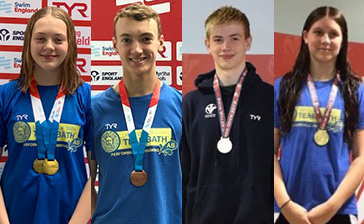 Thirteen Team Bath AS swimmers gained valuable national racing experience and achieved some impressive results when they competed in the summer Home Nations Swimming Championships in England, Wales and Scotland.
The Swim England National Summer Championships in Sheffield saw Rue Fowler win double gold in the 14yr 100m and 200m backstroke. Originally seeded 19th in the 100m event, Rue took almost three seconds off her entry time across heats and finals to win the title in 1.06.34, then advanced her 200m time by almost four seconds the next day to complete the double in 2.23.14.
On his debut at the championships, 14 year-old Olly Watts also showed consistent progression to win 100m freestyle bronze with a new lifetime best of 56.22.
Katie Butcher was the golden girl at the Swim Wales Summer Open, winning both the 15yr 100m backstroke (1.08.96) and 50m butterfly (30.43) titles. Lucas Lawman also medalled in the 17+yr individual medley events, claiming gold in the 400 IM (4.47.50) and bronze in the 200 IM (2.13.25).
Up in Edinburgh at the Scottish Swimming Summer Open, Ethan McNeil won gold in the 17/18yr 400m IM in 4.46.83. He was also fourth in the 200m butterfly and eightth in the 100m breaststroke.
Strong competition at the English Nationals in Sheffield made finals places hard to come by as Dylan Hood (18+yr, 200m breaststroke) and Finlay Saunders (16yr, 50m backstroke) both just missed out, finishing 11th in their events.
Down in Swansea, finals swims came for Katie Butcher (200m backstroke, 4th) and Lucas Lawman (200m breaststroke, 5th). Tegan Gibson also achieved her first finals swim in the 50m freestyle, finishing 7th, and also placed in the 1,500m freestyle with a personal best time.
Making their first appearance at National level in Sheffield were Oliver Saunders (200m IM, 13th); Lydia Crawford (200m fly, 18th); and Olly Watts (100m free, 3rd; 800m free, 12th; 200m free, 18th; 50m breaststroke, 18th). The more experienced members of the team at the Swim England Championships were Rue Fowler (100m backstroke, 1st; 200m backstroke, 1st; 200m freestyle, 12th; 100m freestyle, 15th); Dylan Hood (200m breaststroke, 11th); Peter Mould (100m breaststroke, 17th); Finlay Saunders (50m backstroke, 11th); and Alex Sharman (200m fly, 12th).
Tegan Gibson (1500m freestyle, 6th; 50m freestyle, 7th;  400m freestyle, 17th) joined the Welsh National Team for the first time this year alongside Lucas Lawman (400m IM, 1st; 200m IM, 3rd; 200m breaststroke, 5th; 50m breaststroke, 13th; 200m freestyle, 14th); and Katie Butcher (50m fly, 1st; 100m backstroke, 1st; 200m backstroke, 4th).