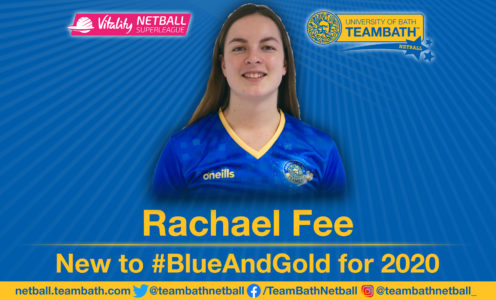 England age-group defender Rachael Fee has been named as the 15th and final member of Team Bath Netball's squad for the 2020 Vitality Superleague season.
The highly-rated 18-year-old from Devon is the latest homegrown talent to progress through the Team Bath Futures Pathway to the senior ranks having previously represented the Blue & Gold at U17, U19 and U21 level.
Exeter College student Fee, who plays at both goal keeper and goal defence, also has international experience with England U19 and toured Australia and New Zealand with the Roses last summer.
"To be asked to be in the Superleague squad was really quite amazing and I am super excited," said Fee, who is part of Team Bath's talent development hub in Exeter and plays for Exeter Netball Club in the national Premier League.
"It was quite a shock to get the call but in a good way and I have felt welcome from my first session – you see these players on TV and it was quite nerve-wracking when I first went in to train with them but everyone has been so friendly and quickly put me at ease.
"Eboni [Usoro-Brown] is my idol, so to train alongside her and the other senior players is amazing. Being part of a high-performance Superleague environment will be unlike anything I have experienced before but I really want to improve my own level of skill and ability, and I'm determined to make the most of this opportunity."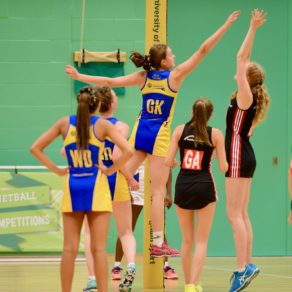 Fee's promotion to the senior ranks continues Team Bath's tradition of giving talented young players the opportunity to learn and develop within the Superleague high-performance environment.
Anna Stembridge, Team Bath's Head Superleague Coach, said: "Rachael is a homegrown player who has benefitted from the coaching expertise of Lois Jackson and Denise Ellis through both our Futures Pathway system and club netball in Exeter.
"She is an exciting player who has great defensive structure and a real hunger for the ball. I have been really impressed by Rachael in her approach and performances in both our recent training sessions and playing opportunities, in which she has held her own. I can't wait to work with her further and see her grow as a person and player."
Fee joins a Team Bath defensive unit that includes Commonwealth Games gold-medallist Usoro-Brown, fellow England international Summer Artman, Northern Ireland World Cup player Fionualla Toner and University of Bath student Tash Pavelin, who is supported by a Santander Sports Scholarship.
The 2020 Superleague campaign begins on February 22 when Team Bath take on Loughborough Lightning in the season opener event at Arena Birmingham.
There are nine home matches for Blue & Gold fans to look forward to at the Team Bath Arena, including showdowns with London Pulse and reigning champions Manchester Thunder during the opening month. Tickets are on sale now – click here to find out more.
Team Bath Netball is partnering with local charity Sporting Family Change in 2020 to help make a difference through sport. Centurion Chartered Financial Partners are Team Bath's people development partner and Rengen Developments also support the netball programme as part of their overall partnership with Team Bath.