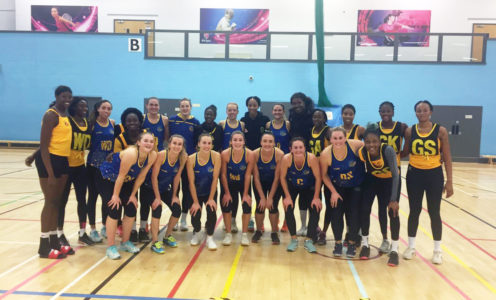 Developing young Team Bath Netball players got to play against world-class international opposition and alongside Superleague stars when the Blue & Gold took on Jamaica in a practice match on Friday.
The game – a warm-up for the Sunshine Girls ahead of the Vitality Netball Nations Cup tournament – took place across six 15-minute periods at Nottingham Trent University and saw all those representing Team Bath play at least half a match.
Superleague players Kim Commane, Rachael Fee, Tash Pavelin, Laura Rudland and Rachel Shaw were joined by a mix of training associates and U21 and U19 NPL players, with Fern Davies, Kirsty Harris, Maya Meredith, Sara Bell, George Ford, Anya LeMonnier and Anabel Staley completing the squad.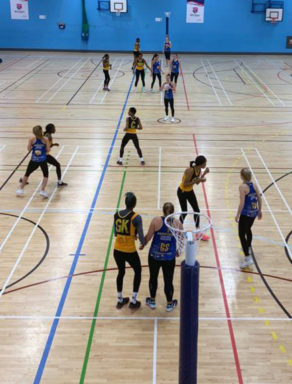 Team Bath Superleague Head Coach Anna Stembridge, who was assisted by U21 coach Nikki Lloyd, said: "It was a fantastic opportunity for younger athletes to play a team currently ranked fourth in the world, featuring such high-profile names as Shamera Sterling and Jhaniele Fowler, and gain exposure to the competitiveness of international netball."
Jamaica went on to win their opening match of the Nations Cup on Sunday when they beat South Africa 59-54.
Team Bath's Khanyisa Chawane was among the replacements for South Africa, who are next in action on Wednesday against an England Roses side that lost 64-48 to World Champions New Zealand in their first fixture.
Team Bath Netball is partnering with local charity Sporting Family Change in 2020 to help make a difference through sport. Centurion Chartered Financial Partners are Team Bath's people development partner and Rengen Developments also support the netball programme as part of their overall partnership with Team Bath.