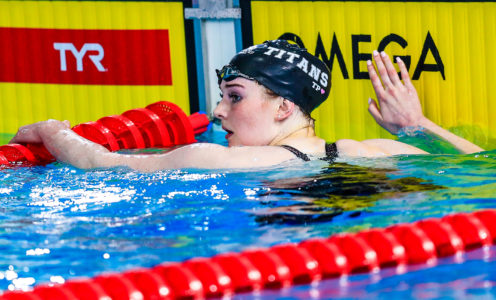 World, European and Commonwealth medallist Freya Anderson is among five Olympic hopefuls joining the British Swimming National Centre based at the University of Bath Sports Training Village.
Nineteen-year-old freestyler Anderson will be coached full-time by David McNulty after spending time in Bath over the past 12 months as part of a phased transition from her current club, Ellesmere College.
"I'm really excited to get going in Bath and it's a really good environment down there with all the senior swimmers, which is something I've never had before as I've always trained at a junior level," said Anderson, a former World and European Junior Champion who has already won ten medals – four of them gold – at senior level for Great Britain and England.
"The transition has felt really seamless. I went to Australia with the Bath training camp [in February], which was amazing, and then I've taken visits down to Bath to see myself on the underwater cameras and have a week training with the group, so I'm used to what it's like down there already."
Also joining McNulty's coaching group when training is safe to resume will be Holly Hibbott, a 400m freestyle medallist at both the Commonwealth Games and European Championships in 2018, and two-time Commonwealth Youth Games champion Leah Crisp.
Joining Jol Finck's training group at the Bath National Centre are Jacob Peters and Brodie Williams, the latter having made his senior short-course debut at the European Short Course Championships in Glasgow last December.
Rio 2016 Olympian Cameron Kurle, who has been part of Finck's training group in Bath for the past three years, is moving to the University of Stirling.
Sports & Exercise Science graduate Anna Hopkin – who won Commonwealth 4x100m freestyle relay bronze alongside Anderson in 2018 while part of Mark Skimming's student swimming squad at the University of Bath – is returning from America to work with Mel Marshall, Adam Peaty's coach, at Loughborough.
All of the swimmers will make the move to their new training bases once the UK Government updates its current social distancing rules and it is safe to do so.