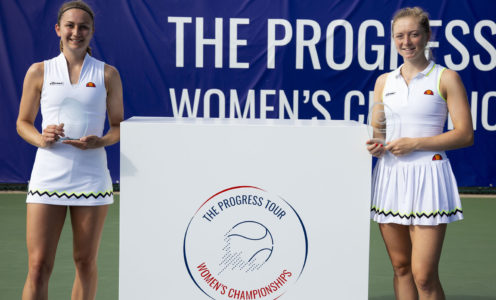 Team Bath Tennis players Alicia Barnett and Olivia Nicholls capped a fine week of competition in the Progress Tour Women's Championships by winning the doubles title.
It was a fitting conclusion for the duo, who were both part of the team that organised the behind-closed-doors event at the LTA's National Tennis Centre in Roehampton.
Barnett and Nicholls, who are coached by Ian MacDonald, won all three of their group matches and then received a bye in the semi-finals before securing the silverware with victory over Emily Arbuthnott and Anna Popescu.
The singles competition saw Barnett again top her round-robin group with three victories to reach the Premier Tier semi-finals, where she was edged out 6-4 6-2 by Jodie Burrage. Katie Boulter, who starred in the Fed Cup matches hosted by Team Bath Tennis in 2019, came from a set down to beat Burrage in the final.
Nicholls, who moved her training based to Bath in February, also reached the semi-finals of the Division 1 Tier singles competition where she was beaten 6-3 6-4 by former Team Bath Tennis junior Amelia Bissett.
The latter was in fantastic form throughout the week and claimed the Division 1 title without dropping a set, wrapping up her overall victory with a 6-3 6-2 win over Erin Richardson in the final.
There was more Team Bath Tennis success to celebrate on week 3 of the British Tour as Grace Piper claimed her third title on the circuit in 12 months with victory in the women's singles.
The number one seed beat fellow Team Bath player Olivia Rook 6-2 6-3 in the semi-finals before coming through a hard-fought final against Emma Wilson, 6-3 4-6 10-8. Hannah Smith also reached the quarter-finals at the National Tennis Centre.
5 @TeamBathTennis girls in the @the_LTA British Tour first round… 5 wins 😀👍 @TeamBath @LTACompetitions @SouthWestLTA pic.twitter.com/3ISw3gXciZ

— Hannah_Tennis (@hmstennis2004) July 18, 2020
Picture of Olivia Nicholls and Alicia Barnett shared on Twitter by @TheProgressTour.