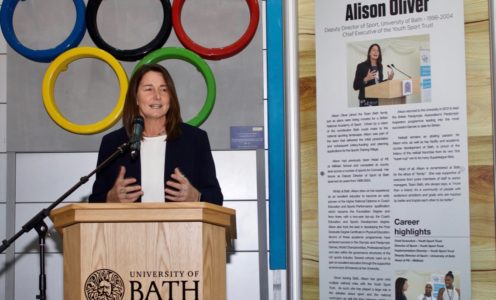 Former University of Bath Deputy Director of Sport Ali Oliver says she is "truly honoured and humbled" after being awarded an MBE for services to sport in this year's Queen's Birthday Honours list.
Oliver, now Chief Executive of the Youth Sport Trust, was part of the team that delivered the initial presentation and subsequent lottery-funding and planning applications for the Team Bath Sports Training Village during her time at the University from 1998 to 2004.
The facility has since gone on to be home to Olympic, Paralympic and World Champions, several National Governing Bodies and a thriving student and community sporting hub.
Oliver also created new academic courses including the Higher National Diploma for Sport, now the Foundation Degree in Sports Performance, and was involved in securing a Netball Superleague franchise at Team Bath in 2004 that has gone on to be the most successful in the competition's history.
A former Head of PE at Millfield School in Somerset, Oliver has gone onto multiple national roles with the Youth Sport Trust and, as such, has played a large role in the debates about sport and the national curriculum as well the links between childhood obesity and levels of inactivity.
Heartfelt thanks for the kind messages of the last 24 hours. Tried reply to each one individually, but now think a single response is better. Being recognised alongside the brilliant @FaulknerEllen makes it so special-but together, just part of an awesome @YouthSportTrust team

— Ali Oliver (@AliOliverYST) October 11, 2020
Oliver, an inductee into the University's Hall of Fame for Sport, said of her MBE award: "I am truly honoured and humbled to be recognised in this way. It has been an utter privilege to play a part in the journey of the Youth Sport Trust; a very special charity with a mission close to my heart.
"I don't believe there is anything more important, or fulfilling, than helping to build brighter futures for young people, and there is no doubt in my mind that play and sport are essential ingredients to a happy and healthy childhood.
"I would therefore like to dedicate this honour to the staff and wider family of the Youth Sport Trust and thank them for their incredible passion and commitment to improving young people's lives."
Oliver is joined in the Hall of Fame for Sport by former Directors of Sport Tom Hudson and Ged Roddy. Click here to see the full list of inductees.