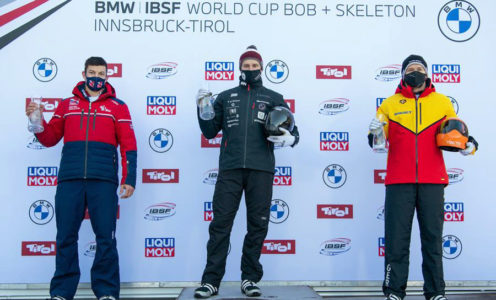 Matt Weston won men's skeleton World Cup silver in just his fifth-ever race on the sport's top circuit as University of Bath-based sliders continued their excellent start to the 2020-21 international season.
The former taekwondo and rugby player finished fourth in last week's World Cup race in Igls but deservedly claimed a podium place on the same track this time, with only Latvian legend Martins Dukurs finishing ahead of him in the 18-strong field.
"I've dreamt about a World Cup medal since I started skeleton but I never thought it could happen this quickly," said Weston, who only joined the programme in the summer of 2017 and has just 16 races at all levels behind him.
"Last week's experience definitely helped: I was able to stay calmer and more relaxed this time after Run 1. I was really pleased with the result last week so to better it today is amazing."
The result is the British team's second World Cup medal of the season, coming just three weeks after Marcus Wyatt won bronze in Sigulda. Prior to this season, the last time a British male won a World Cup medal was 2013 when Dom Parsons took bronze in Calgary.
It also marked the first time since 2007-08 that two different British men have won medals in the same season and the first time since Kristan Bromley made the podium three times in 2010 that the programme has celebrated multiple men's medals in a single campaign.
The team have now claimed second, third, fourth, fifth, sixth, seventh and eighth-place finishes over four World Cup races, with Dukurs taking gold on each occasion.
Fellow Brit Jerry Rice finished 14th – an improvement of two spots on last week's result.