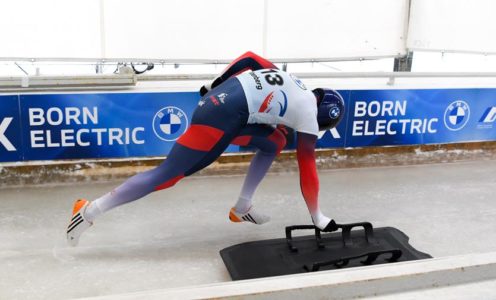 Laura Deas and Matt Weston narrowly missed out on a medal when University of Bath-based British Bobsleigh & Skeleton Association athletes finished their season at the 2021 IBSF World Championships in Altenberg, Germany.
The GB duo repeated their fourth-placed finish from the previous year in the team event, with Deas coming down fifth fastest of the women of 58.99 seconds and Weston recording the third quickest time of the men in 56.99 for a combined total of 1:55.98.
It was a particularly impressive effort from 23-year-old Weston given that he had suffered the huge disappointment of crashing out of medal contention in the individual men's event on Friday.
He was sixth after two excellent runs on Thursday but a heavy hit out of Corner 4 and a bigger collision coming out of Kreisel in his third run saw him slip to 23rd overall. Fellow Brits Marcus Wyatt and Craig Thompson enjoyed better second days, though, as they put down much improved runs to finish 12th and 14th respectively.
Olympic bronze-medallist Deas had endured a frustrating first day in the individual race on Thursday but also improved on the Friday, going more than a second and a quarter quicker than her first run both times to move up from 18th to 15th.
That was one place behind team-mate Ashleigh Pittaway, who improved on her only previous World Championship appearance of 16th in Lake Placid two years ago, while Brogan Crowley was 23rd.
The bobsleigh action concluded on Sunday with Mica McNeill, who had placed 19th in the women's two-man with Montell Douglas the previous weekend, finishing 13th in the first-ever monobob World Championships race.
The four-man competition saw Lamin Deen, Ben Simons, Joel Fearon and Tremayne Gilling sit 15th on Saturday night but climb three spots in the overall standings on Sunday, saving their best run to last as they came down ninth fastest in the final lauf.
Brad Hall, Taylor Lawrence, Nick Gleeson and Luke Dawes were 14th at the halfway stage on Saturday but didn't start Sunday's two heats due to injury.
The previous weekend's two-man event had seen Hall and Greg Cackett finish 11th, while Deen and summer Olympian James Dasalou – making his first appearance at a bobsleigh World Championships – were 20th overall.
The World Championships brought the curtain down on the 2020-21 season. The athletes will now take a short break before returning to the Team Bath Sports Training Village to begin their preparations for the 2021-22 season which culminates with the Beijing 2022 Winter Olympic Games.