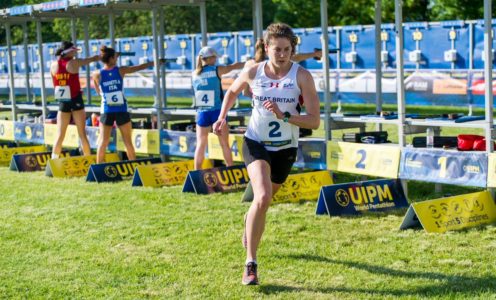 Pentathlon GB's Kate French continued her superb return to competition as she won a silver medal in the women's final at the second UIPM World Cup of 2021 in Sofia, Bulgaria on Friday.
Fellow University of Bath Sports Performance graduate Jo Muir also collected more valuable Olympic qualification points by finishing fourth, as did Francesca Summers in ninth, and Natural Sciences alumna Jess Varley was 11th on her first international appearance for 15 months.
"I'm really pleased," said French. "It's been quite a tough day, nothing has been easy, but I'm just really pleased with second place."
Pentathlon GB Performance Director Jan Bartu added: "It was another excellent performance from Kate. She showed consistency, focus and self- confidence throughout the day. To secure another podium and know we still have some room for improvement, is a great place to be ahead of our journey towards Tokyo.
"Jo, Frankie and Jess also put on fine displays of skill, fighting spirits and matured competition craft to secure excellent final positions. I'm really pleased with how the whole team has conducted themselves today."
The latest podium placing comes just a fortnight after French and Muir won gold and silver respectively at the opening World Cup in Hungary.
University of Bath alumni Joe Choong, Sam Curry and Tom Toolis will all be in action in the men's final in Sofia on Saturday.