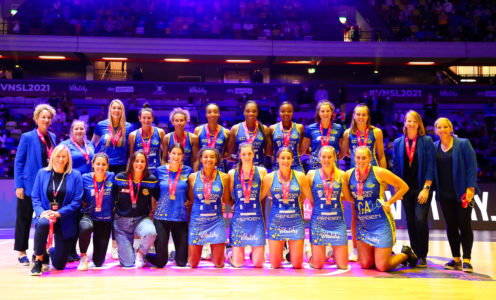 Team Bath Netball were unable to finish a superb Vitality Superleague season as champions after they went down fighting to Loughborough Lightning in Sunday's Grand Final at London's Copper Box Arena.
The Haines Watts-sponsored Blue & Gold were seeking their first title since 2013 but it was old rivals Lightning, under the guidance of former Team Bath star Sara Francis-Bayman, who deservedly took the honours after an outstanding performance.
Strong finishes to both the first and second quarters gave Lightning an eight-goal advantage at half-time, which battling Team Bath closed to five going into the closing stages of a feisty third quarter.
However, mistakes crept in as they chased the game and ruthless Lightning were able to stretch the gap to seven once again before taking advantage of tiring opposition in the final quarter to secure a 49-32 success and their first Superleague title.
The final margin was harsh on Team Bath, who have still had a season to remember having won 17 of their 20 matches during the regular Superleague season and reached their first Grand Final for eight years.
Anna Stembridge, Team Bath Netball Superleague Head Coach, said: "We're feeling pretty gutted but credit to the girls. Yesterday we threw absolutely everything at the Thunder game to give us an opportunity to be in this final and I thought we absolutely brought to Loughborough in the first half but they played with incredible patience and it was difficult to take the ball off them.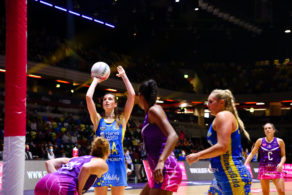 "We weren't clinical enough in terms of our own possession and I felt we deviated from what we do well but you can't take away from what the girls have done this year and how they've played. It's been an incredibly tough season and we wanted to put a spectacle on for the netball community, and I think that's something where we can definitely hold our heads up high."
Co-captain Eboni Usoro-Brown added: "It was a really good contest but obviously we weren't the better team today and Loughborough so deservedly won that final. It doesn't define the season we've had, it's been one of our best for a number of years. There are lots of positives to take and we'll be back stronger in 2022."
Rengen-backed Team Bath went with the same starting seven that had battled past Manchester Thunder in Saturday's pulsating semi-final, while Lightning were also unchanged from their last-four victory over Leeds Rhinos.
The opening stages of the final were as intensely fought as expected, with both teams defending fiercely to force several turnovers. It went goal for goal for the first six minutes before Lightning finally managed to edge into a narrow lead.
A stunning team goal, finished off by the ruthless Kim Borger, epitomised the style and flair that Team Bath have shown all season but a couple of late efforts from Mary Cholhok gave Lightning an 11-7 advantage going into the second quarter.
They quickly stretched that to six goals before Team Bath clawed their way back into the contest, with every player digging deep to close the gap to 14-12. However, Lightning were applying relentless pressure right across court, inspired by Player of the Season Beth Cobden, and forced a couple of errors which they capitalised on clinically with seven of the last eight goals before half-time.
Trailing 22-14, the Blue & Gold came out firing for the third quarter and showed tremendous spirit to close the gap to five goals during an increasingly physical and feisty affair. However, mistakes crept in as they chased the game and Lightning punished them once again with three quickfire goals in the last minute of the quarter.
Borger netted on the buzzer to help Team Bath edge the quarter 10-9 but the gap remained at seven goals and that quickly became ten after the restart as Lightning ended any hopes of a comeback.
Betsy Creak and Tash Pavelin came on to gain Grand Final experience, both making a good impact, but while Team Bath kept fighting until the end, the efforts of the semi-final were beginning to tell and an excellent Lightning side took full advantage to extend the winning margin to 17 goals.
Team Bath Netball is supported by its Principal Partner, chartered accountants Haines Watts, who are also a pathway partner, and by Rengen and Centurion Chartered Financial Planners. O'Neills are Team Bath's official kit supplier and 2XU are their compression wear suppliers.
Match stats
Team Bath Netball starting 7: GS Kim Borger, GA Sophie Drakeford-Lewis, WA Rachel Shaw, C Serena Guthrie, WD Imogen Allison, GD Layla Guscoth, GK Eboni Usoro-Brown. Replacements: Summer Artman, Tash Pavelin, Abi Robson, Kirsty Harris, Betsy Creak.
Changes: Q4: Creak – bench to GS; Borger – GS to GA; Drakeford-Lewis – GA to bench; Pavelin – bench to WD; Allison – WD to bench.
Loughborough Lightning starting 7: GS Mary Cholhok, GA Ella Clark, WA Hannah Joseph, C Nat Panagarry, WD Beth Cobden, GD Jas Odeogberin, GK Sam May. Replacements: Suzie Liverseidge, Lucy Parize, Alice Harvey, Hannah Williams, Lauren Nicholls.
Quarter scores (Team Bath first): Q1 7-11; Q2 14-22 (7-11); Q3 24-31 (10-9). Q4 32-49 (8-18).
Picture credit: Ben Lumley