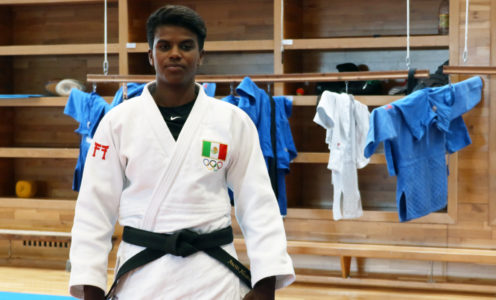 Judoka Prisca Awiti-Alcaraz is proud to be flying the flag for Mexico at the Tokyo 2020 Olympic Games – and for her Team Bath home.
The University of Bath graduate will be the sole representative of her mother's home country when the judo competition takes place in Tokyo's legendary Nippon Budokan, the spiritual home of the sport.
She will also be cheered on by the Team Bath family she has been part of for the past six years, training with the high-performance judo squad while also coaching and inspiring the next generation of judoka on Team Bath Tribe sports camps.
"Going to the Olympics has always been a dream and Japan being the home of judo makes it even more special that my first Games will be in Tokyo," said British-born Awiti-Alcaraz, who began competing for Mexico in 2017 thanks to her dual nationality status.
"I competed in the Budokan at the 2019 World Championships, which was the test event for the Olympics. For myself and everyone, it was a realisation that this was where the Games were going to be and it's a pretty special place.
"I think the Olympic experience is going to be great, regardless of the Covid measures. We're used to social distancing and wearing masks now, the last year has been good in helping us adapt to the environment the Games will take place in. It will feel normal and I'll enjoy it equally as much.
"I'm really proud [to be Mexico's sole representative] but there is a lot of pressure as well. Usually you have a team with you at competitions and you can gauge it on how things go for them. Because it's only me, the whole of Mexico will be waiting for my day and will be watching. It's quite a bit of pressure but I'm enjoying it.
"It's an experience that not many people get to live. Obviously I'm going for a medal, that's what everyone goes to an Olympic Games for, but I'm going to live in that moment and take everything in. It might come again, it might not so I'm going to enjoy it."
Awiti-Alcaraz, who competes in the -63kg weight category, headed to Japan via Mexico following a two-week preparation camp at the Team Bath Sports Training Village, led by coach Tom Reed.
"There are three main centres for judo in Britain and I visited them all but Bath just felt like it was the place for me and I really believe in the coaching team here," said Awiti-Alcaraz, who first moved to the University in 2015 when she began a Sports Performance degree.
"The people were really welcoming from the get-go and I also studied here, it was the place where you could get the best qualification. I studied for three years and it was home by then so I stayed on. It was a no brainer really, there was nowhere else I would rather carry on the journey.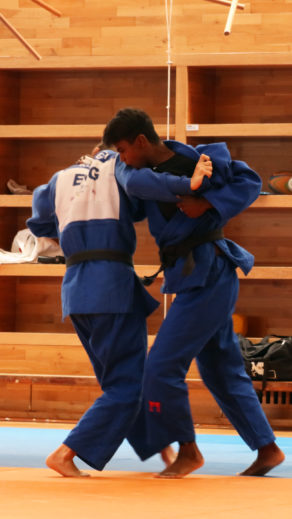 "Obviously we have a permanent dojo and when the new gym was built a couple of years ago, that was amazing. We have the high-performance gym as well, our own private bit. It's a high-performance atmosphere as it's not just judo, there are so many other sports, so it's a good place to meet other people who are on the same journey and want the same things as you, which is always important."
Awiti-Alcaraz has also embraced the opportunity to pass on her experience to youngsters through Tribe camps and wants to provide them with more inspiration in Tokyo.
"It's good for the kids to have role models," she said. "It's nice for the youngsters to have met me before I become an Olympian and see what everyday people can achieve if they put their mind to it and set goals, little and big ones."
Awiti-Alcaraz, who is in action on Tuesday 27th July, is one of three Team Bath judoka competing in Tokyo, with Ben and Megan Fletcher representing Ireland in the -100kg and -70kg categories respectively. Fellow University of Bath graduate Gemma Howell is also representing Team GB at her second Games.