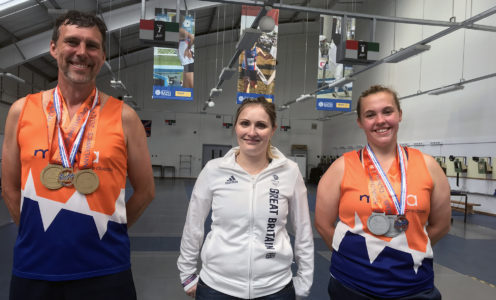 Two intrepid fundraisers who are taking on all the Olympic sports during the 17 days of the Tokyo Games returned to the University of Bath today to complete their modern pentathlon challenge.
Stuart Bates and Charlotte Nichols of Spennylympics took on fencing and the laser-run in the pentathlon hall at the Team Bath Sports Training Village under the guidance of Pentathlon GB coaches.
It came just a couple of hours after Kate French, who trains with Pentathlon GB at their University of Bath-based National Training Centre, had won Olympic gold in magnificent style in the women's final in Tokyo.
Charlotte, a medical student from Bristol who did her training for the challenge at Team Bath while on placement at Bath's Royal United Hospital (RUH), said: "It was brilliant, we had the best time. Thank you to Pentathlon GB and Team Bath for being so welcoming and supportive."
Stuart added: "We are 15 days into the challenge where we are doing 101 individual events. We only have beach volleyball, sailing, football and, on the very last day, the small matter of the marathon to go."
View this post on Instagram
The Spennylympics fundraising challenge, which has now raised almost £100,000, is the brainchild of Stuart, whose sports-mad brother Spencer passed away ten years ago after suffering from Motor Neurone Disease.
"My brother, known to everyone as Spenny, was a massive sports fan and at this time of year we'd both be getting really excited about all the GB athletes taking on their individual sports," Stuart said.
"This challenge has been kicking around in my head for a while and I almost didn't want to say it out loud as it sounded so ridiculous but as soon as I mentioned it to Charlotte, she said 'that's brilliant, we have to do it!'.
"Motor Neurone Disease is a neurological condition for which there is currently no cure and no effective treatment. In time hopefully, with enough funds, they will be able to get there and raise enough money so effective treatments and cures can be found."
To support Stuart and Charlotte or find out more, visit www.spennylympics.com or follow @spennylympics on social media.