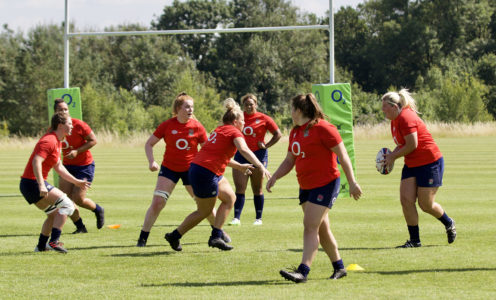 The England Women's Rugby squad have continued to lay the foundations for their 2022 Rugby World Cup challenge during an "intense and physical" month-long training camp at the University of Bath.
As well as putting in hours of training on the University's rugby pitches, often in temperatures approaching 30 degrees Celsius, the Red Roses players worked on their strength and conditioning in the Team Bath Gym and swam in the 50m pool in the Sports Training Village for recovery.
They also stayed in accommodation on campus for the camp, which took place throughout July and had a very clear goal that Head Coach Simon Middleton and his staff had set out.
"It's a pre-season camp with a slight difference in that we have a very specific objective," he said. "The World Cup is still 14 months away but we're working on the intensity and physicality in which we train. In order to do that you have to develop resilience within the players and that's what this month is about.
"We've had some high-endurance days and others more strength-based. Across the month we're hoping to see an improvement in skill, execution, physical development and mental resilience – the weather has certainly helped with that."
Among the 26 players on the camp were Marlie Packer, Amber Reed, Emily Scarratt and captain Sarah Hunter, who is no stranger to the University of Bath.
"I've had the privilege of training here before," said Hunter, who won the 2014 World Cup and captained the Roses to the final in 2017. "I lived in Bath when I worked for England Rugby in a University Development Officer role across the South West.
"The English Institute of Sport [EIS] use the facilities here too so I based myself here and it was brilliant, it prepared me for the 2017 World Cup and put me in the best place. To come back and see some familiar faces around the place has been really nice."
Middleton said that the University had ticked all the boxes required for the camp, explaining: "We had some real specifics about what we wanted – really good surfaces to train on and everything on site, like accommodation, gym, recovery and nutrition. We wanted an institute that was sports-based and knows how to cater for high-performance athletes, with people who want to be a part of your journey even if it is just for a small period of time, and we found everything we wanted in Bath."
The players are now returning to their clubs to begin pre-season training for the 2021-22 Allianz Premier 15s league season on the back of a productive month of preparation for the World Cup, which has been rescheduled from this year to October 2022.
"I have been in quite a few England squads and I think this is probably one of the most talented groups I've been in," said Hunter. "The potential is huge and it's now up to us to see where that can go and whether the potential can be fulfilled on the pitch."